Entrepreneurial Selling
Sales Training
Sales training can make or break a salesforce. If your not training your sales people to succeed, then you are training them to fail.
Sales training is an important part of a successful sales team. But training for the sake of training is just a big waste of time - yours and your employees.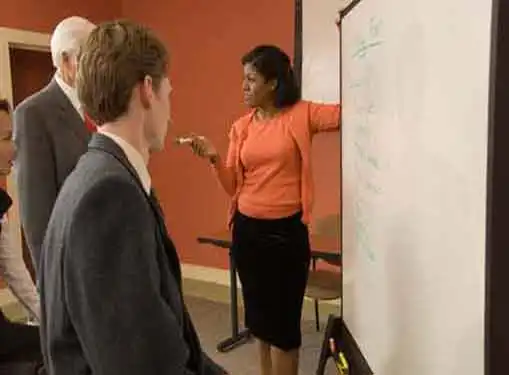 To make it worthwhile, your sales training program needs to be substantive and engaging. Here are six topics that are an absolute must for your sales training line-up.
Presentations
Presentations are a crucial element in the selling process. But it's a mistake to assume that everyone on your staff is equipped with the presentation skills they need to effectively represent your products to your customers. To prepare them, include presentation skills as part of your regular training cycle and model the kinds of presentations you expect from them.
Closings
Everyone knows that the closing is the most important part of sales. A botched close can make the difference between a satisfied customer and the one that got away, even if the salesperson did everything else right. Train your staff on closing techniques and give them the opportunity to share their closing success stories with each other.
Phone Sales
Selling by phone requires a unique set of skills and the ability to think quickly on your feet. If your company regularly employs selling by phone as a vehicle to market your products, it's not enough to provide your staff with generic sales training. You also need to provide them training that is tailored to a telesales environment.
Planning
Planning is a frequently overlooked topic in sales training programs. That's unfortunate because the work that is done behind the scenes is sometimes more important than the face to face interaction with the customer. To cover all your bases, offer training blocks on a variety of planning topics including prospecting, product analysis, and pricing.
Time Management
In sales time is money - your money. If your sales staff is skilled in managing their time, they will be able to make more contacts and close more sales. At the end of the day, that means more money in your pocket. However, a staff that lacks sufficient time management skills will have difficulty reaching even the most meager sales goals. Equip your team with time management resources (e.g. Day Timers or PDAs) and train them how to use them to their advantage.
Technology
Technology is becoming an increasingly integral part of the sales process. Solutions such as CRM, e-mail, and the internet are being employed by more small businesses every day to attract new customers and sell their products. However, technology is only useful when it used properly, and to do that your staff is going to need training. If you are knowledgeable about your company's technology, you can do this training yourself. If not, a more realistic alternative is to engage the services of your technology provider since it is fairly common for most tech providers to offer training upon request.
Share this article
---
Additional Resources for Entrepreneurs