Rebranding a Company
Sample Announcements For Rolling Out a New Brand
Occasionally, companies decide to rebrand themselves. Developing a new brand is hard enough, but once you've completed the rebranding, you need to operationalize the new brand. This sample letter to employees, announcing a new brand, may come in handy.
You're in charge of rebranding your company and you're looking for example materials that will help you announce the new brand, right?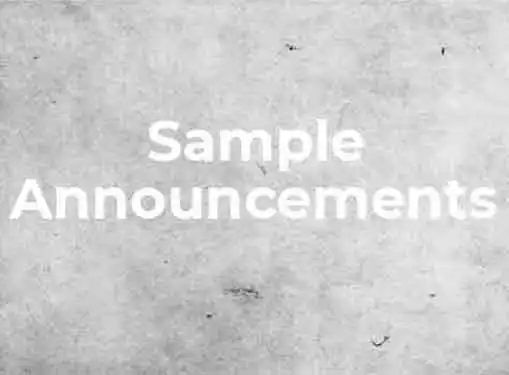 If so, you're in luck. Here's a sample rebranding announcement that will provide a good starting point for you. (It's intended to be used internally. Announcing a new brand externally is another thing altogether.)
Introducing Our New Brand
The Company X logo and brand has undergone a significant transformation. The new identity had to satisfy all of the existing expectations of what our original mark stands for...while simultaneously moving the brand forward.
Striving to maintain the iconic and recognizable mark was a primary goal. This was achieved by carefully deconstructing the existing mark and studying its fundamental shapes, angles and weight. This process informed our work and perspective as we approached the challenge of defining a new mark.
The Upcoming Brand Standards & Usage Guide
A new Brand Standards & Usage Guide is being developed to provide the foundation for consistent application of the Company X brand across all media including interface, web, collateral, and promotions. Consistently expressing the Company X visual identity builds a strong brand awareness, allowing Company X to maintain our position as the marketplace leader. Once they are posted to our intranet, please follow these guidelines for the most effective expression of the Company X brand.
Why The Color Change?
Color provides a strong visual link to our brand identity across a wide range of applications. The consistent representation of these core colors helps reinforce the distinctiveness of the Company X brand.
[Insert brand colors here] serve as our brand's corporate colors for print and electronic applications. An extended color palette has been created for use in presentations and other corporate materials. To find colors that are consistent with the business needs of your department, please refer to the relevant style guides. To ensure consistent representation of our brand identity, always use high-quality vendors and reproduction methods.
Stationery System
Our stationery system - which includes PowerPoint documents - is the company's most widely used communications tool. Its components, both individually and as a whole, are designed to create a coherent visual identity through consistent use. Therefore, all stationery must follow proper brand guidelines. To maintain a consistent look across all Company X internal and external communications, we have created a distinct new stationery system that incorporates the new branding. Representative examples that correctly display the Company X logo on a variety of materials are available [Insert link to brand examples on intranet].
The stationery system features the logo and brand positioning statement and is printed in the Company X colors. Letterheads, envelopes, and business cards are printed on [Insert paper specs here, e.g. Mohawk Options Crystal White, an eco-conscious paper made from post-consumer waste.]
It's a Group Effort! Don't forget to...
In order to maintain the integrity of our new brand, it has to be adopted and supported by everyone in the Group. Download these elements, update your materials, and play an active part in transforming the Company X identity!
Business Cards
New business cards are on the way. Recycle those old business cards! (There are blue bins in each office.)
Laptop Stickers
Cover that old laptop sticker with the new one included in your Launch Kit.
PowerPoint Template
Download the latest PowerPoint template! Use the included instructions to take you through the conversion process. Plus, use the helpful PowerPoint Tips & Tricks that can help with formatting issues when creating/converting PowerPoint decks. Need help? Contact marketing for assistance.
Corporate Presentation
Use these updated corporate decks for your next presentation [link to new corporate decks]. We've updated them with fresh imagery and graphics so that they better reflect the new brand.
Email Signature
Update your email signature so that it better represents Company X. It's imperative - to ensure consistency across the firm - that no additional verbiage, graphics, or links are added to your signature. You can find the new email signature templates here [insert link].
Font
Download the new Company X font - [insert font here][insert link for font download too] - that is used in a variety of our new presentations, documents and marketing collateral. Installation instructions included!
Desktop Backgrounds
Brand your laptop with one of four new Company X backgrounds [link to newly branded desktop backgrounds].
There you have it. Feel free to use any of the above that works for your organization and good luck with the brand rollout!
Share this article
---
Additional Resources for Entrepreneurs