Real Estate Articles
Security Systems for Office Spaces
Written by Brent Pace for Gaebler Ventures
In order to protect your business, you need to have secure office space. Here are a few things to think about when you are deciding what kind of security system to use for your space.
When you select an office space for your business you are picking a home for your operations for the next few years.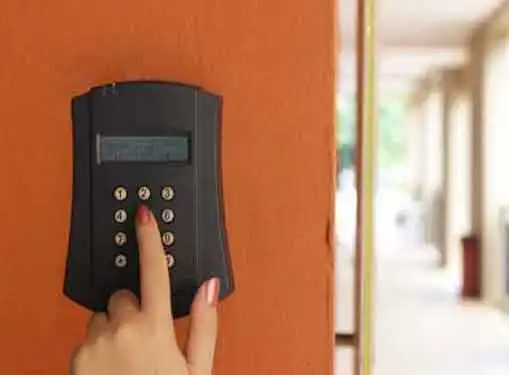 In some cases you may be committing to spend the next ten years or more at that location. One thing that is often overlooked in these situations is security. Your business will likely have a lot of valuable information stored both electronically and in files at your place of business. In addition your furniture and other things in your space have great value. Replacing them will cost you much more than money, it will cost you time and take away from your core business. In order to protect these assets, you need to think about securing your space.
There are many different approaches to office building security. They range from simple lock and key systems to highly complex systems with card readers, cameras, and even private security guards to protect the lobby. I will highlight a few of the options in this range, and talk about which type of security is appropriate for which situation.
Simple Lock and Key
If you have a business that is very low-key and simple, a lock and key system may be enough for you. Under this kind of system you simply open the front door in the morning with your key, and lock it when you leave at night. This kind of system is typical in a class B or C office building. These buildings are typically older and are used by a variety of business owners.
If you run a business that has very little in terms of sensitive information, electronics, proprietary or trade secrets, or anything of that kind; then a lock and key system could be for you. These lock and key spaces save money and are often a good place to start.
Controlled Exterior Access (Landlord)
A step up from a simple lock and key system is a building with controlled access managed by the Landlord. These buildings typically have doors that are electronically controlled to open and close for business hours. For example, the Landlord can control the exterior doors to be open from 6 am to 6 pm Monday thru Friday and then from 9 am to 12 pm on Saturday.
Controlled Access is very common in Class B and many Class A office properties. This type of security allows the tenant to control their suite, but provides them with the comfort of knowing that the Landlord controls the exterior doors remotely. This type of system is very prevalent in large multi-tenant office buildings.
Full Security System with Card Readers and Card Keys
At the high end of the security scale you have systems with complete automation and card key access for all employees. You see this in very high end class A office buildings as well as many government office buildings. Anyone with very secure data or property stored in their space may want to consider this option.
In these types of building your employees each receive a card key that is programmed to give them access to exactly the spaces that they are allowed to use. For instance, a specific employees' card could give them access to the exterior doors (during the proper hours), access to the proper floor in the building by virtue of a card reader in the elevator, as well as access to the specific spaces in your space that the employee needs access to. This type of security is expensive, but can be extremely valuable for any function that has sensitive information.
Brent Pace is currently an MBA candidate at University of California at Berkeley. Originally from Salt Lake City, Brent's experience is in commercial real estate development and management. Brent will have tips for small business owners as they negotiate their real estate needs.
Share this article
---
Additional Resources for Entrepreneurs