Selling a Bead Shop
In any market, there are sellers and then there are serious sellers. We'll give you the tools you need to be taken seriously when you decide to sell your bead shop.
An assortment of hurdles and obstacles stand between you and the successful sale of your bead shop.
(article continues below)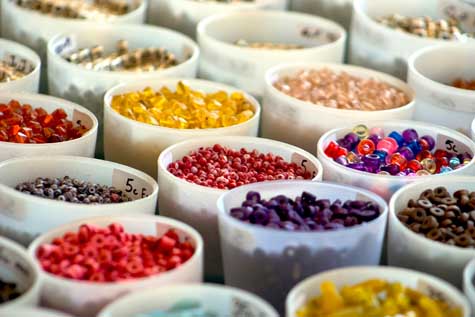 There are many factors involved with the decision to sell a business. Knowledgeable entrepreneurs understand that market timing isn't nearly as important as other factors in a bead shop sale. To improve sale outcomes, you will simply need to tailor your bead shop to today's buyers.
Workforce Concerns
As a business owner, you want to keep you employees informed about your plans; as a seller it's in your best interest to keep your employees in the dark for as long as possible. You're concerned about confidentiality, and rightfully so. If you keep your employees out of the loop too long, it's inevitable that misinformation will filter throughout your workplace. Consider informing your key employees first, followed by the rest of your workforce later in the process. Above all else, it's imperative to encourage your workers to maintain a positive attitude and work ethic. If you're having trouble navigating the employee minefield, consult a business broker for advice.
Selecting a Broker
A good business broker is your best bet for a fast and profitable business sale. During the selection process, look for brokers with a proven track record of successful bead shop sales. Take our word for it -- bead shops are unique businesses and you need a broker who understands how to properly market your bead shop to prospective buyers. The best brokers should also come with a list of references, a demonstrable track record and a proven plan for selling bead shops.
Preparing Your Bead Shop for Sale
First-time business sellers sometimes don't realize that the success or failure of their sale is determined before it hits the market. Attractive bead shop listings are the culmination of a preparation process that began months or even years ahead of time. Everything you do to increase market share and profitability has a payoff in the final sale price of your bead shop. It is especially helpful if your financial reports can demonstrate a multiyear growth trend for potential buyers.
More Exit Planning Articles
Given your interest in exit planning and in bead shops, you might find these additional resources to be of interest.
What Does a Business Broker Charge?


---
Conversation Board
It's tough to cover everything there is to know about how to sell a bead shop in a single article. If you have any additional comments or questions, please let us know.
Need Information on Starting a Bead Shop?
If starting a bead shop is on your agenda, these helpul resources may be just what you've been looking for:
Do You Market Products or Services to Bead Shops?
If you want information on how to sell to bead shops, this isn't the best resource for you on our site. These helpful guides are more appropriate for you:
More Business Transfer Information
If you are eager to get business succession tips for a different industry, try our list of exit planning guides below.
Browse more niche exit planning guides: