Selling a Bicycle Rental Business
You've learned a lot during your tenure as a bicycle rental business owner. Now the trick is to convince cautious buyers that your operation is worth the asking price.
With planning and patience, most bicycle rental businesses can be sold for a fair price in the current business-for-sale marketplace.
(article continues below)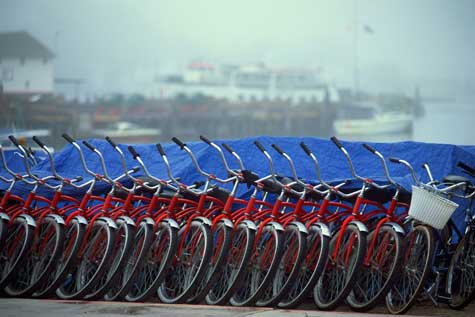 However, serious buyers also understand the value of a good bicycle rental business. So for bicycle rental business sellers, today's market is all about convincing buyers that the numbers make their companies worth the asking price.
When to End Negotiations
Negotiations have a way of dragging on forever. But sooner or later, someone needs to bring negotiations to a close. Unfortunately, that responsibility often falls on the seller. In a bicycle rental business sale, a stalled negotiation can be an indication that the deal is dead. At this point in the process, an awareness of negotiation parameters really pays off. If the buyer is unwilling to accept your minimum demands, it's time to end negotiations and move on to the next prospect.
When Is the Right Time to Sell?
Most business owners know when it's time to exit their company. There are a lot of naysayers out there advising bicycle rental business sellers to put their plans on hold until the economy fully rebounds. We aren't nearly as pessimistic about the bicycle rental business marketplace. The inventory of what we consider to be quality bicycle rental businesses is actually low right now and there is room for the right sellers to realize substantial gains with investment-conscious buyers.
The Best Person to Sell Your Bicycle Rental Business
There are benefits and drawbacks to handling the sale of your bicycle rental business on your own. Without a doubt, you have the most at stake in the outcome of your sale. That makes you the most passionate advocate for your bicycle rental business in the business-for-sale marketplace. The problem is that your passion for your business can also sabotage your sale. Nearly all sellers have an inflated sense of their company's value. At a minimum, conduct an independent appraisal of the bicycle rental business to gain an objective sense of fair market value.
More Exit Planning Articles
Given your interest in exit planning and in bicycle rental businesses, you might find these additional resources to be of interest.
Marketing a Bicycle Rental Business
Pre-Exit Employee Incentive Programs
Why Hire an Exit Planning Consultant


---
Conversation Board
Do you have any tips on selling bicycle rental businesses? If so, we'd love to hear from you!
Hoping to Open a Bicycle Rental Business?
If starting a bicycle rental business is on your agenda, these helpul resources may be just what you've been looking for:
Starting a Bicycle Rental Business


Do You Market Products or Services to Bicycle Rental Businesses?
If you want information on how to sell to bicycle rental businesses, this isn't the best resource for you on our site. Try these useful resources instead:
Selling to Bicycle Rental Businesses
Mailing Lists for Bicycle Rental Businesses


More Business Sale Guides
If you are looking for exit plan advice for a different kind of business, please browse our directory of exit planning guides below.
Browse more niche exit planning guides: