Selling a Data Recovery Business
It's a misconception that no one is buying data recovery businesses these days. Savvy entrepreneurs see data recovery business opportunities as a path to short-term profits and long-term growth. Although final sales prices vary, the best sales combine strategy and hard work to achieve desired outcomes.
Business buyers are a timid lot, even more so now that they are facing an uncertain economic landscape.
(article continues below)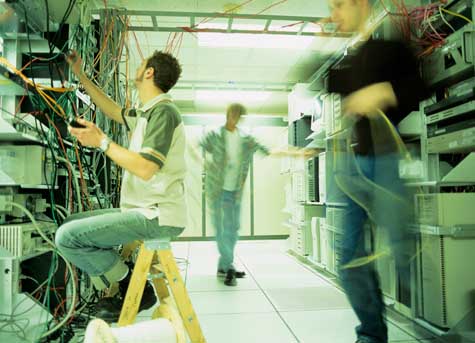 If your exit strategy involves selling a data recovery business now, sellers need to make a strong case for buyers to purchase at or near the asking price.
Negotiation Exit Strategy
The negotiation stage of a data recovery business can seem never-ending. Yet eventually many negotiations reach a stage where further discussion is pointless. In a data recovery business sale, a stalled negotiation can be an indication that the deal is dead. At this point in the process, an awareness of negotiation parameters really pays off. If the buyer is unwilling to accept your minimum demands, it's time to end negotiations and move on to the next prospect.
Average Timeframes
From the day they decide to sell their company, the question that plagues many owners is how long it will take to sell their data recovery business. The amount of time your business will be on the market depends on how aggressively it is priced and marketed. On average, it takes a minimum of six months to prepare a data recovery business for sale and many sellers spend a year or more positioning their business to command a higher price. In a good market, an attractive data recovery business can sell in as little as a few months, although it can take more than a year to find the right buyer after the business is listed.
Signs You're in Over Your Head
It's not uncommon for the owners of small data recovery businesses to adopt a go-it-alone sale strategy. Plenty of owners sell their data recovery businesses unassisted. Without brokerage, the risk of your sale going off-course is increased. As a rule, no business should sit on the market for more than six months without attracting the interest of at least a handful of qualified buyers. Likewise, if buyers seem to express interest but quickly exit when you quote the asking price, it's a sign that your data recovery business is priced out of the market. If that occurs, it's time to bring in the professionals to get your sale back on track.
More Exit Planning Articles
Given your interest in exit planning and in data recovery businesses, you might find these additional resources to be of interest.
Marketing a Data Recovery Business
How To Choose An Investment Banker
Pre-Exit Employee Incentive Programs
---
Conversation Board
The learning process for selling a data recovery business is an ongoing journey. Send us your comments and questions, and let's continue the conversation!
Hoping to Open a Data Recovery Business?
If starting a data recovery business is on your agenda, these guides will help you get started:
Opening a Data Recovery Business


Looking for Data Recovery Business Customers?
If you consider data recovery businesses to be sales prospects, this isn't the best resource for you on our site. These helpful guides are more appropriate for you:
Selling to Data Recovery Businesses
Mailing Lists for Data Recovery Businesses


More Business-for-Sale Advice and Information
If you are looking for exit plan advice for a different kind of business, try our directory of exit planning guides below.
Browse more niche exit planning guides: