Selling a Paintball Facility
Don't believe anyone who tells you it's easy to sell a paintball facility. A lot of things need to happen before you can successfully exit your business. But with a few tips, you can keep your shirt and your sanity in the sale of your business.
Today's paintball facility buyers tend to be more skeptical than most about the nation's economic outlook.
(article continues below)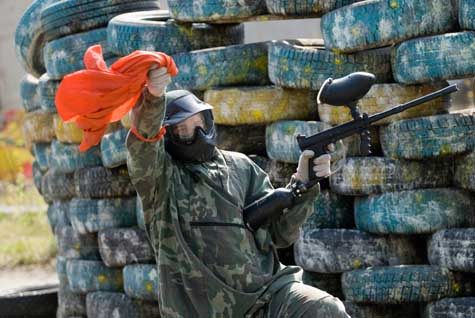 Many business owners don't know that paintball facilities are still a hot commodity, to the extent that sellers have properly prepared them for the marketplace.
Preparing Your Paintball Facility for Sale
The outcome of a business sale is largely determined prior to a market listing. Profitable paintball facility listings are the culmination of a preparation process that began months or even years ahead of time. Branding, market positioning, and revenue growth take time, but they directly influence the price your paintball facility will command in the marketplace. But your efforts to improve your company's position and profitability will only be effective if you invest similar effort into the preparation of accurate financial statements for buyers.
Legal Considerations
It's obvious that you're going to need to hire an attorney to finalize the sale of your paintball facility. Competent legal counsel ensures that the sale documents are in proper order. Furthermore, a good lawyers provides the counsel necessary to navigate the tax and liability issues that surround a business sale. We recommend hiring an attorney early in the process to gain insights about the legal consequences of various sale outcomes.
Business Valuation
Professional appraisers can use three methods to determine the value ofa paintball facility: The income method, the asset method and the market method. While the income method uses anticipated revenues as a value basis, the asset method focuses on the company's capital, real estate and intellectual assets. In many sales, the most accurate valuation comes from the market method which determines value based on the recent sales of similar businesses. As a safeguard, consider conducting appraisals using variations of multiple appraisal methods. Sellers should take note of the fact that all three valuation methods reward businesses that takes steps to increase assets and income.
More Exit Planning Articles
Given your interest in exit planning and in paintball facilities, you might find these additional resources to be of interest.
Why Most Businesses Do Not Have Exit Plans
Marketing a Paintball Facility
How Much Is My Business Worth?


---
Conversation Board
Still have questions about selling a paintball facility? Ask away and we'll do our best to get you a timely reply. We also welcome any tips or advice you'd care to share with others.
Do You Plan on Starting a Paintball Facility Soon?
If starting a paintball facility is on your agenda, these helpul resources may be just what you've been looking for:
Do You Market Products or Services to Paintball Facilities?
If you consider paintball facilities to be sales prospects, there's more applicable information for you elsewhere on our site. These helpful guides are more appropriate for you:
Selling to Paintball Facilities
Mailing Lists for Paintball Facilities


More Business Transfer Information
If you are looking for exit plan advice for a different kind of business, please browse our alphabetical directory of exit planning guides below.
Browse more niche exit planning guides: