Selling a Physical Therapy Business
Many business leaders say that now isn't the time to try to sell a physical therapy business. At Gaebler, we think it's a great time to sell a physical therapy business. Here's why . . ..
The economy isn't the only thing that is uncertain these days. So are physical therapy business buyers, many of whom are waiting to pull the trigger on their next acquisition.
(article continues below)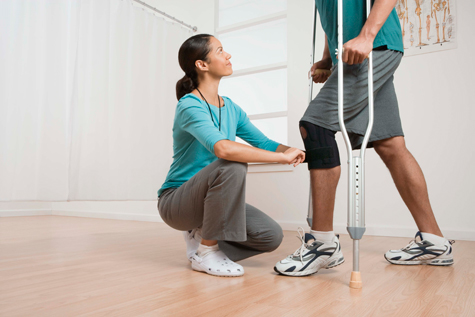 Despite the conventional wisdom, we believe current economic conditions are right for selling a physical therapy business. We'll tell you what you need to know to achieve a successful sale outcome
Pre-Sale Checklist
The upfront time you investment in the sale of your physical therapy business will pay big dividends at closing. The first item on your checklist should be a reality check -- if you plan to sell your business for top dollar in just a few short months, you need to adjust your expectations%However, your first priority should be to set realistic expectations for the selling process and its eventual outcome. Once your expectations are in the ballpark, you can move on to making your business presentable to prospective buyers.
Selecting a Broker
First-rate business brokers deliver prospects and profits to their clients. During the selection process, look for brokers with a proven track record of successful physical therapy business sales. Take our word for it -- physical therapy businesses are unique businesses and you need a broker who understands how to properly market your physical therapy business to prospective buyers. The best brokers should also come with a list of references, a demonstrable track record and a proven plan for selling physical therapy businesses.
The Case for Confidentiality
Confidentiality determines risk in the business-for-sale marketplace. If you are rigorous about maintaining a confidential sale, there is little risk in putting your physical therapy business on the market. But if word leaks out to the wrong people, your competitors can use that information to steal business and damage your credibility. Maintaining confidentiality isn't easy, but without it you won't get top dollar for your business. In a worse case scenario, a profitable physical therapy business can be reduced to one that is struggling to survive. Brokers and consultants can mitigate the risk by implementing confidential sale techniques.
More Info on Business Transitions and Related Articles
Given your interest in exit planning and in physical therapy businesses, you might find these additional resources to be of interest.
Marketing a Physical Therapy Business
Renewing Leases Prior to Selling a Business
Terms of Investment Banking Agreement


---
Conversation Board
Did you find our tips on how to sell a physical therapy business helpful? Is there anything we missed? Still have questions? If so, we would love to hear your questions, comments and insights.
Do You Plan on Starting a Physical Therapy Business Soon?
If starting a physical therapy business is on your agenda, these helpul resources may be just what you've been looking for:
Opening a Physical Therapy Business


Do You Market Products or Services to Physical Therapy Businesses?
If you consider physical therapy businesses to be sales prospects, this isn't the best resource for you on our site. These helpful guides are more appropriate for you:
Selling to Physical Therapy Businesses
Mailing Lists for Physical Therapy Businesses


More Business Transfer Information
If you are looking for exit plan advice for a different kind of business, please browse our directory of exit planning guides below.
Browse more niche exit planning guides: