Selling a Roofing Business
It's a misconception that no one is buying roofing businesses these days. Savvy entrepreneurs see roofing business opportunities as a path to short-term profits and long-term growth. There aren't any guarantees, but if you adhere to fundamental business sale concepts, you can likely get a good price for your business.
The roofing business-for-sale marketplace is a nuanced environment, full of pitfalls for sellers who aren't prepared for its demands.
(article continues below)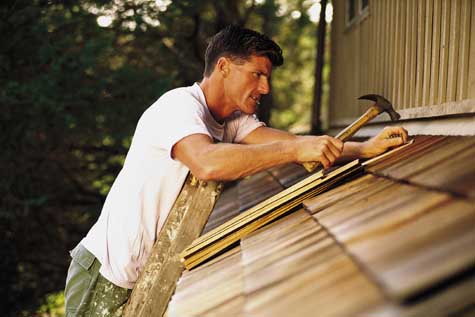 Success is a factor of preparation, execution and a keen eye for the market. As a business seller, you need to go into the process with the mental goal of presenting your business in the best possible light.
What to Expect in a Roofing Business Sale
Prepare yourself to feel a broad range of emotions when you sell a roofing business. From hopefulness to remorse, it's all part of exiting of your company. The emotions of a sale are complicated by the fact that it may take time to locate the right buyer and the final sale price may be less than you think your roofing business is worth. Although it isn't easy, you can mitigate the emotional impact of a roofing business sale by setting realistic expectations before you list your business.
Closing Strategies
Like it or not, prospective buyers are going to ask you to make certain concessions in the sale of your roofing business. But don't limit your view of concessions to financial incentives. It's not unusual for sellers to offer non-cash incentives to help inexperienced entrepreneurs get off to a successful start. A limited amount of training and mentoring may seem inconsequential to you, but to a young roofing business owner, they can be critical launching points for their ownership journey.
Post-Sale Details
As your roofing businesssale nears completion, there is a lot of work remaining to be done. The transition to the new owner, the distribution of sale proceeds and other issues can weigh heavily on sellers. If there are pending details that still need to ironed out, address them ASAP to ensure a smooth closing and transition.
More Exit Planning Articles
Given your interest in exit planning and in roofing businesses, you might find these additional resources to be of interest.
Pros and Cons of Using Business Brokers
Entrepreneurial Exit Strategies
---
Conversation Board
What challenges have you experienced in selling a roofing business or are you just getting started? If you have questions or advice to share, we'd love to hear from you!
Hoping to Open a Roofing Business?
If starting a roofing business is on your agenda, these guides will help you get started:
Do You Market Products or Services to Roofing Businesses?
If you consider roofing businesses to be sales prospects, there's more applicable information for you elsewhere on our site. These helpful guides are more appropriate for you:
Mailing Lists for Roofing Businesses


More Guides on Selling a Business
If you are eager to get business succession tips for a different industry, try our directory of exit planning guides below.
Browse more niche exit planning guides: