Selling a Scuba Diving Business
Is the economy still a little shaky for a business sale? Sure it is. Yet scuba diving businesses haven't heard the news and are reporting steady action on the business-for-sale market.
Today's scuba diving business buyers tend to be more skeptical than most about the nation's economic outlook.
(article continues below)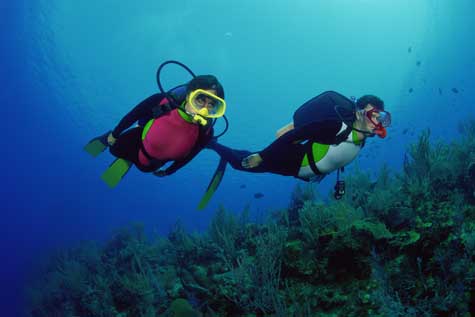 Many scuba diving business sellers fail to receive fair market value for their businesses. With the right strategy, your sale doesn't have to end that way.
Economic Considerations
When you sell a scuba diving business, there are a number of variables you need to consider. A combination of economic conditions and market sentiment can complicate your sale. The truth is that perfect market conditions may never materialize. Rather than watching the economy, we recommend watching buyers and tailoring your business to meet their investment expectations. One thing is for sure - buyers are paying more attention to your company's profitability and growth potential than they are to the latest quarterly economic indicators.
Working with Appraisers
Next to your broker, a skilled appraiser is the person most capable of adding value to the price of your scuba diving business. Leading industry appraisers equip sellers with a value gauge that can be accessed during negotiations. Even though you may disagree with the appraiser's value estimates, it's important to give your appraiser the information and independence he needs to present an objective opinion. To ensure accuracy, ask your broker to provide references for appraisers with industry experience.
Business Assets
It's incumbent on buyers to commission their own appraisal of your scuba diving business's physical assets. Your appraisal should occur before you put your business on the market. A professional appraisal is a necessity because it gives you the information you need to negotiate a sale price. During your appraisal process, you should also note the condition of your assets. Cost-effective repairs can then be made before your list your scuba diving business.
More Info on Business Transitions and Related Articles
Given your interest in exit planning and in scuba diving businesses, you might find these additional resources to be of interest.
Pros and Cons of Using Business Brokers
Marketing a Scuba Diving Business
How Much Is My Business Worth?


---
Conversation Board
Still have questions about selling a scuba diving business? Ask away and we'll do our best to get you a timely reply. We also welcome any tips or advice you'd care to share with others.
Need Information on Starting a Scuba Diving Business?
If you plan on opening a scuba diving business, these guides will help you get started:
Opening a Scuba & Skin Diving Business


Do You Market Products or Services to Scuba Diving Businesses?
If you consider scuba diving businesses to be sales prospects, this isn't the best resource for you on our site. Try these useful resources instead:
Selling to Scuba Diving Businesses
Mailing Lists for Scuba Diving Businesses


More Business-for-Sale Advice and Information
If you are eager to get business succession tips for a different industry, try our directory of exit planning guides below.
Browse more niche exit planning guides: