No one gets a free lunch in B2B sales. To succeed in this environment, you need the right combination of skills and expertise.
(article continues below)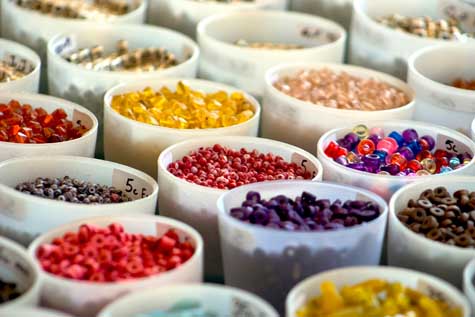 With perseverance and strategy in your corner, it's possible to penetrate the market and receive an acceptable return for your efforts.
Industry Experience
In bead shop sales, industry experience is a huge plus. Although it isn't necessary to be a twenty year industry veteran, it helps to speak the industry language and to understand the pressure points of a typical bead shop.
B2B sellers who lack industry experience can augment their background by subscribing to trade journals, partnering with industry insiders and immersing themselves in the industry culture. Remember, bead shops may also be more amenable to sellers within their network, so it's important to expand your industry contact base as quickly as possible.
Effective Marketing Strategies
Effective sales strategies begin with marketing, and the marketing strategies for bead shops cover a lot of ground.
Yet in this industry, marketing effectiveness is rooted in the ability to target key decision makers. Whether it's direct mail or a technology-rich online campaign, any initiative that fails to reach decision makers is a waste of time and resources.
Since your sales revenues hang in the balance, you can't afford to rely on stale or inaccurate sales leads. Third-party lead lists may be the best resource for making sure your team is equipped with the most up-to-date information possible. If you don't currently use lead lists, you may want to consider Experian -- a third-party lead list vendor with a reputation for providing regularly updated and sorted bead shop leads.
Networking Tips
The bead shop industry is relationship-based. Businesses that sell in the industry leverage networking and contacts throughout the sales cycle.
Lead lists are helpful in expanding your network, but only to the extent that your team invests time and effort to develop lead list contacts into long-term business relationships. As an owner or manager, you need to encourage networking strategies and proactively model relational sales techniques.
We think you may find these additional resources to be of interest.
If you currently own a bead shop, you are in the wrong spot. These resources will come in handy:
If you are looking for advice on selling to a different company type, peruse our alphabetical list sales guides below.