Over the past several years, electronics stores have become high value targets in the B2B sector.
(article continues below)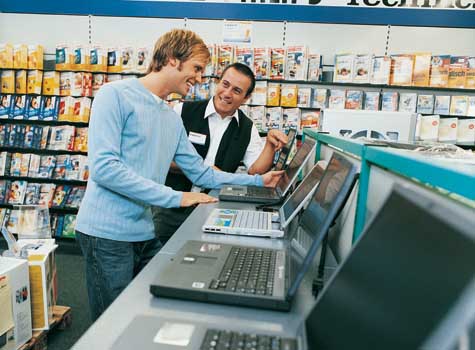 The process of converting electronics stores from prospects to satisfied customers isn't random. It takes intentionality from owners and managers to create a strategy that is tailored to your product line and customer base.
SPECIAL OFFER. Need to find electronics store prospects? Deliver your message to the right audience with highly targeted mailing lists from Experian. Special pricing for Gaebler.com site visitors -- 5% off all Experian mailing list purchases.

Acquire an electronics store prospecting database.

Message First, Targets Second
Messaging is a critical weapon in your company's battle to capture market share. Unfocused messaging dilutes the sales cycle and frustrates prospective customers' efforts to discern the value of your products.
Whenever possible, the identification of key messaging should be incorporated into a comprehensive planning process that combines sales and marketing into a single, unified strategy.
The next step is to reduce your contact list to the contacts who are most likely to respond to your messaging. Although lead generation techniques are diverse, lead lists can be a useful resource for generating a list of prospects that are receptive to your messaging. Vendors like Experian specialize in providing targeted lists of electronics stores that can be tailored to meet geographic and demographic criteria.
CRM Software
CRM (Customer Relationship Management) technology is standard fare for most B2B enterprises.
When used properly, CRM can improve your company's interactions with customers and prospects. If you don't currently use CRM, there's no better time than the present to get started. Companies that already use a CRM solution need to analyze their processes to make sure it is being used to its full potential.
In the B2B electronics store industry, the inefficient use of CRM can put your business at a competitive disadvantage.
Strategies for Selling to Electronics Stores
Although there are exceptions, electronics stores are always interested in products that help them provide a higher level of service for their clients and customers.
Cost is a constant concern, but if electronics stores believe a new product or line of products will significantly enhance their customers' experience, price takes a backseat to quality.
Businesses that sell to electronics stores need to also recognize the fact that electronics stores aren't necessarily the end-users, so strategies that focus on enhancing customer experiences can give your company a competitive edge.
Given your interest in selling and in electronics stores, you might find these additional resources to be of interest.
If you currently own an electronics store, you are in the wrong spot. These resources will come in handy:
If you want to start an electronics store, we have some better resources for you:
If you are looking for advice on selling to a different company type, peruse our directory of sales guides below.