Business Development Strategies for Niche Markets
Selling to Lumber Yards Businesses
The problem with selling to lumber yards is that misguided efforts can threaten your entire plan for success. Using these tips for selling to the lumber yard market will dramatically improve sales.
Despite robust demand for products sold to lumber yards, breaking into the market can be challenging.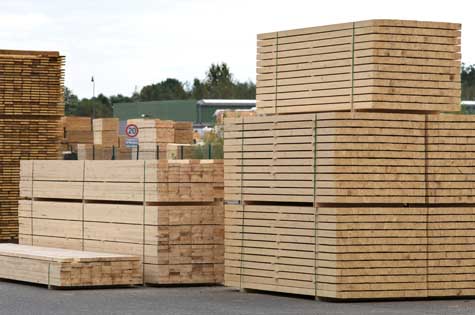 Learn how to turn piles of wood into piles of money.
Leveraging the strength of the market, entrepreneurs are knocking on the doors of the marketplace, eager to earn their share of the profits. Competition can be tight, so emerging businesses have to be careful about the way they approach lumber yards.
Tips for Selling to Lumber Yards
Businesses that sell to lumber yards live and die by the amount of information they have about their prospects, their products and their competition.
Successful sales strategies crave effective information capturing systems and are adept at using that information as a tool for converting prospects to satisfied customers.
Customer Profiles
Emerging sellers in the lumber yard market are advised to create customer profiles before they invest in a specific sales strategy. A little industry knowledge can go a long way toward giving your sales unit the edge it needs to convert high value lumber yard leads.
In this industry, it is especially important to develop a customer-focused approach. In general, lumber yards are very skilled at spotting B2B companies that lack an awareness of the issues that are important to them and many will hold out for more knowledgeable suppliers, even if it means paying a slightly higher price.
Reaching Prospective Customers
Prospecting transforms contacts into qualified leads.
Networking can enhances the value of prospecting and conversion ratios. However, it's important to make sure your sales force isn't so focused on conversation that they miss the point of prospecting, i.e. the identification of likely buyers, key decision makers and high value industry contacts. In other words, the type of people you meet is just as important as the number of people you meet when prospecting for lumber yards.
Lead lists are useful because they narrow the field for your team. Third-party lists from reputable vendors (e.g. Experian Business Services) arm your sales force with good leads, making it easier for your company to balance the quantity and quality demands that are prerequisites for effective prospecting.
Have Friends Who Might Like This Article?

Share this on Twitter
Let them know on LinkedIn
Ready to Learn More? We Think You Might Like These Articles:
---
Additional Resources for Entrepreneurs