Selling to Businesses
Selling to Roadside Assistance Businesses
The territory of roadside assistance businesses is fertile soil for for sales reps who are adept at B2B selling. You're going to love this list of tips you need to increase your sales to roadside assistance businesses throughout the U.S..
A good sales strategy is money in the bank. So for businesses that sell to roadside assistance businesses, strategic sales planning is a prerequisite for success.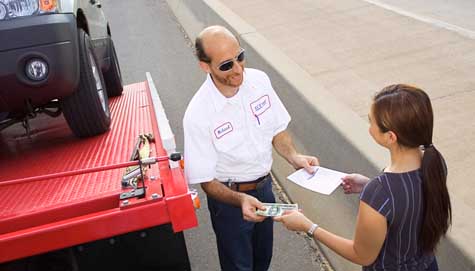 Roadside assistance can be an expansion opportunity for existing businesses or a pure-play startup concept for new entrepreneurs.
The majority of roadside assistance businesses expect stellar service from the companies they do business with. But service alone won't close the deal. For B2B companies that sell to roadside assistance businesses, the steady execution of business fundamentals is just as important as your relationships with your customers.
How to Find Roadside Assistance Business Leads
Leads are the foundation of successful selling. The first step in lead generation is to survey the local market. From there, you can widen the field to include the yellow pages, Internet searches and trade listings.
The names of roadside assistance businesses you obtain through your own efforts need to be qualified through phone calls, emails, and face-to-face conversations.
But the most dependable source of qualified sales leads is often a third-party lead list provider. For consistently high quality lead lists, we recommend Experian Business Services to our business partners. Experian has a reputation for providing accurate and filtered lead lists that can be used for direct mail and other marketing efforts directed toward roadside assistance businesses.
Developing a Marketing Plan
A robust marketing strategy is the basis of a successful sales strategy. Your team might be stocked with highly capable sales professionals, but if they aren't supported by strong messaging and effective marketing channels, your revenue stream will be weak.
Keep in mind that roadside assistance businesses are fast-paced operations with little patience for long sales cycles.
A thoroughly developed marketing plan helps to focus your selling proposition and deliver messaging in channels that are well received by your customer base. When combined with a sales plan, a marketing plan offers an effective selling strategy that converts prospects to customers.
Role of Owners & Managers
Owners and managers are active players in selling to roadside assistance businesses. Front line visibility is essential for large accounts, but your sales team can benefit from occasional field interactions with the owner or sales manager.
By periodically accompanying your reps in the field, you earn their respect and gain insights about your customers.
Have Friends Who Might Like This Article?

Share this on Twitter
Let them know on LinkedIn
Ready to Learn More? We Think You Might Like These Articles:
---
Additional Resources for Entrepreneurs