Employee Wellness
Taking a Vacation When You Own a Business
Written by Rayzelle Forrest Young for Gaebler Ventures
Advice on how you can take a vacation if you own and operate a business. Stresses the importance of notifying customers ahead of time and taking your vacation during times when your business is usually slow.
Taking time away from your business in order to revitalize yourself is a must if you are an entrepreneur.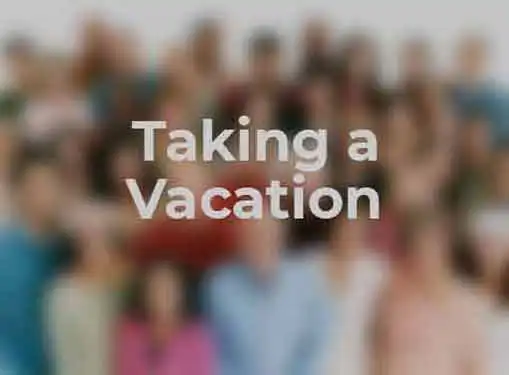 Going on a vacation can help you to recharge and develop a new sense of motivation which can ultimately help your business be a success. You may be thinking that it's almost impossible to take a vacation if you own and operate a company but this is not true. There are ways for you to do this without jeopardizing significant business profits and losing customers.
Plan In Advance
You definitely want to plan your vacation in advance if you own a business. This will give you time to notify your customers of the time that you'll be away. Shoot for taking it during a time when your company's sales are usually slow. If you take your vacation during a peak season you run the risk of losing customers as well as a significant amount of profits. If you operate an inflatable bouncer business and take a vacation during the summer, your usual customers will more than likely use the services of someone else versus waiting for you to return.
Change Your Answering Machine
Change your business answering machine message while you are gone on vacation. Briefly explain that you are on vacation and how long you will be gone. You don't want your customers to get frustrated with repeatedly calling you, only to get no answer. If most of your work is conducted by way of email, you'll want to do the same thing. Set up an auto responder informing your customers that you're away on vacation and will return all emails as soon as you get back.
Get A Substitute
If at all possible, try to keep your business up and running while you're away. This will cut down on the possibility of losing business profits and customers. Get someone you can trust and who is familiar with your business to be a substitute. This could be a family member, an employee or even a trustworthy friend. Avoid taking extremely long vacations. If you do, getting a someone to fill in for you will be even more to your advantage. If you have a friendly relationship with a competitor, you might want to approach them about watching over things and offering to split the profits with them. In return, you could work out an arrangement to do the same for them when they go on vacation.
Taking a vacation when you own a business is not as difficult as it may seem. Remember to notify your customers far in advance of the time you'll be away. In addition, change voice mails and emails to let people know that you are unavailable but will contact them as soon as you return. If you plan to stay gone for an extended amount of time you may want to get someone to fill in for you. Make sure this person is someone you can trust as well as someone who knows the basics of operating your business.
Rayzelle is an entrepreneur and writer. Based on her experiences as an owner of her own dance studio, she will share her personal tips on being a successful entrepreneur.
Share this article
---
Additional Resources for Entrepreneurs