Due Diligence When Selling a Business
What Is Seller Due Diligence
Due diligence isn't just for buyers. If you plan on selling a business, make sure you understand the seller due diligence process.
No one looks forward to the process of selling a business.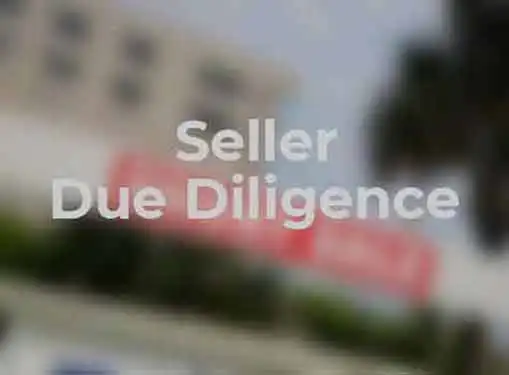 Sure, a graceful exit and a big payday sound great. But the long list of planning and selling requirements is more than a little daunting, especially for owners who are selling a business for the first time.
Inexperienced sellers often have a skewed perspective about the nature of the selling process. They mistakenly limit their role to negotiations and providing the information the buyer needs to perform due diligence, but give little thought to their own due diligence process. The assumption is that the broker has vetted the buyer so the owner can sit back and let the deal simply run its course.
There are a lot of reasons why that's a mistake. The reality is that sellers have a responsibility to perform their own comprehensive due diligence process during a business sale. Small oversights early in the process can have significant consequences when the stakes are higher and the urgency to close the deal has increased.
Ultimately, a proper understanding of seller due diligence is a prerequisite for a successful business sale. Here's what it involves and what you'll need to do when it's time to sell your small business.
Motivation. The buyer's motivation for purchasing your business matters more than you might think it does. If the buyer's interest in your company is strictly for its assets or market position, it will have a significant impact on negotiations or the company's future as an ongoing business interest.
Capacity. The buyer may protest, but you're within your rights to ask for his financials and credit history, regardless of whether or not you are financing a portion of the deal. If the buyer's interest exceeds his actual capacity to buy your business, you need to know about it early in the process so you can move on to more capable prospects.
Reputation. Most business owners have a personal investment in their company. A buyer with a checkered track record can sully your good name and even damage your future business prospects. Ask around the industry and check references to make sure your buyer is the real deal.
Intentions. What does the buyer intend to do once his name on the company's letterhead? If he plans to fire the current workforce, reduce their benefits, or terminate contracts with close allies, it could be problematic for both you and the people you care about.
Barriers to sale. Regulatory concerns, legal entanglements, and other issues can create insurmountable barriers to sale. Seller due diligence identifies these barriers early on to avoid pain and disappointment later.
Share this article
---
Additional Resources for Entrepreneurs