Franchise Opportunities
Wild Bird Centers of America, Inc.
Are you a backyard birdwatcher, or an experienced naturalist? Turn your passion into a business with Wild Bird Centers of America.
Franchise Profile — Wild Bird Centers of America, Inc.
Wild Bird Centers of America is a leading franchiser in the birding industry, with nearly 100 Wild Bird Centers across the U.S. and Canada.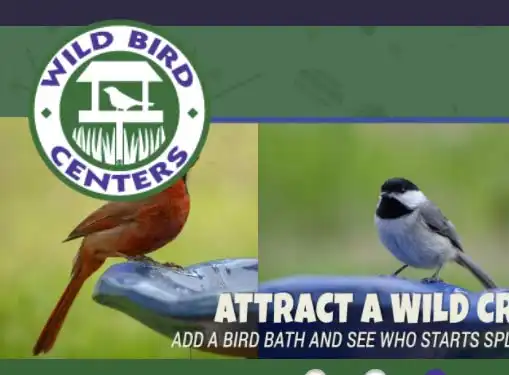 Wild Bird Centers carry birding products from seed and suet to books and garden accessories as well as nature-oriented gifts. In addition, each center offers a variety of unique local specialties, hand-selected by the owner of your store. Most stores also provide regular series of bird walks, kids' programs, demonstrations, and the like.
A 2001 survey by the Department of the Interior reported that over 54 Americans spend $3,100,000,000 for feeding wild birds and other wildlife, $732,000,000 for houses, feeders, nest boxes and baths, and that's not all the products Wild Bird Center sells. With it's 19 years of franchise experience, Wild Bird Centers has developed products and techniques to help you success from the start.
Learn More About Wild Bird Centers of America, Inc.
For more information on this franchise opportunity, visit:
Wild Bird Centers of America, Inc.
More Franchise Opportunities
Browse more franchise opportunities in the Gaebler Ventures franchise directory:
Our Directory of Franchise Opportunities now includes over 2,000 franchise opportunities. If we're missing a franchise, please let us know.
Share this article
---
Disclaimer
This franchise information is neither a recommendation nor an endorsement of any franchise or business opportunity. The information is intended only to introduce our site visitors to partnering with a third-party group as a potential option for starting a new business. Franchise opportunities featured on our site may contain errors, and the information may be out of date. In addition, some franchise opportunities on our site may more properly be classified as business opportunities. You should always do your own independent and extensive research before investing in a franchise, as buying a franchise is inherently risky. Do the necessary due diligence, thoroughly review the legal documents, check references and engage qualified advisors before you invest.
---
Additional Resources for Entrepreneurs