Business Ideas
A Structured Approach to Brainstorming
Written by Ankur Hazarika for Gaebler Ventures
Brainstorming is crucial to start-ups. This is your tool to get all the brains in the organization contributing to the solution of an issue. Traditional brainstorming has its own inefficiencies, such as delays and deadlocks. Structured approaches like Edward de Bono's Six Thinking Hats can help eliminate these problems with brainstorming sessions.
Brainstorming is defined as a conference technique of solving specific problems, amassing information, stimulating creative thinking, developing new ideas, etcetera, by unrestrained and spontaneous participation in discussion.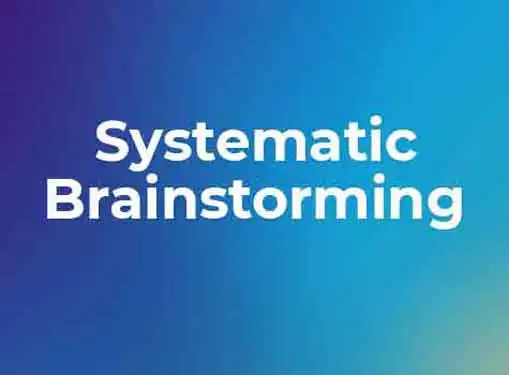 From the definition, it seems that if there were 'n' persons, then the intelligence put in during the brainstorming session should be 'n' times that of an average human being. But that's far from the truth. Many a times the inefficiencies of the group pull down the collective intelligence to levels below that of an individual.
Brainstorming is crucial to start-ups. There are two aspects related to this:
Start-ups are small teams. There would not be a separate idea generation/product features team sitting pretty to come up with infinite solutions. The company needs to summon the intelligence of all the heads it has at its disposal, of course, subject to some screening.
Brainstorming, as a tool, has its own inefficiencies. Unlike single person ideation and decision, brainstorming can lead to delays and dead locks. This is something a start-up cannot afford.
If you look at the 'creative thinking' and 'unrestrained' parts of the definition of brainstorming, you will get an idea. An idea is an individual's baby. It is difficult to convince him to kill or merge his ideas with others.
Egos and beliefs come into picture. Some individuals stress on their ideas ad nauseam, while innovative thoughts get lost in the din. Emotional citations outweigh logic while the micro and macro views get messed up. The play of the 'unrestrained participation' in brainstorming could unsettle the whole exercise.
Applying the Six Thinking Hats Structure
Edward de Bono's Six Thinking Hats framework is a boon to the process of creative thinking.
This framework is simple and effective. In this framework, the discussion time is divided into six hats: white (information), red (emotion), yellow (opportunities), black (negative aspects), green (creativity) and blue (control and monitoring). During the period of one hat, say green, people will talk only about the creative aspects of an issue. No one will put in an emotional comment or cite a market threat during the period of this hat.
Suppose a discussion on the introduction of a new product is happening. During the white hat, people will lay the information on the table: market size, product specifications, and substitute products, etcetera.
During the red hat they would discuss the emotional factors, such as the salesmen might be offended because of being burdened with one more product. At this time no one is allowed to counter this point with logical reasoning. The red hat ensures that all the emotional and gut feelings are heard unhindered.
The market opportunities of the product would be discussed during the yellow hat, the threat of competition and product failure during the black hat, and the new and creative product features during the green hat.
Now that the problem has been discussed exhaustively on all aspects, everyone has the big picture, rather than his own parochial view. Now, an informed decision can be taken that leads to an ultimate consensus.
The six thinking hats is a framework on which the company can broadly frame their own methodology of conducting meetings and discussions. It surely helps avoid some of the inefficiencies associated with traditional methods. Brainstorming is just an example of a kind of communication. Entrepreneurs need to be in close and efficient communication to drive business. Each medium of communication, like written, online, and telephonic, should be carefully analyzed and optimized to remove associated inefficiencies.
Ankur Hazarika is currently studying at the School of Management, Indian Institute of Technology (SJMSOM, IIT B), in Mumbai, India. He has been closely associated with a host of entrepreneurship networks like NEN, TiE and BarCamp, and has worked with the Indian business incubator, Society for Innovation and Entrepreneurship (SINE).
Share this article
---
Additional Resources for Entrepreneurs