Americans With Disabilities Act
ADA Basics for Business Owners
The Americans with Disabilities Act (ADA) may have some significant implications for your business space. Here's what every business needs to know about ADA compliance.
For two decades, the Americans with Disabilities Act (ADA) has profoundly impacted the appearance and function of the American workplace.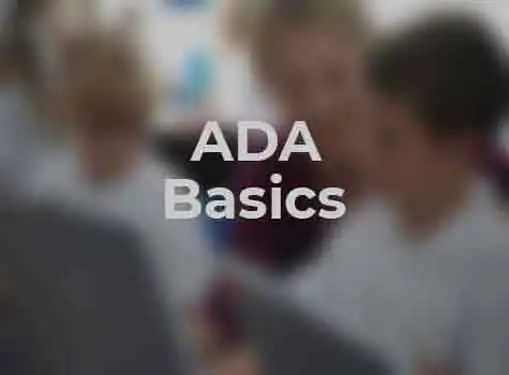 Designed to literally level the playing field for people with disabilities, many small businesses have been forced to modify their existing structures to meet ADA compliance requirements.
From a business perspective, the problem with ADA isn't the principle – it's the execution. No one argues against the value of making commercial and public spaces more accessible for the handicapped. But since ADA placed the burden of accessibility on businesses, owners have found themselves caught between the rock of compliance and the hard place of budget realities.
What is ADA?
The Americans with Disabilities Act is federal legislation that prohibits businesses and organizations from excluding disabled people from normal, everyday activities. For business owners, the passage of ADA introduced a new set of criteria for making their structures and facilities more accessible to people with a wide range of disabilities.
Who is covered by ADA?
New construction and building remodels automatically fall under ADA guidelines. Existing construction may be exempt as long as compliance with ADA is not "readily achievable". In other words, if an ADA retrofit would be difficult or disproportionately expensive (based on business size), the organization is not required to achieve full compliance.
Full compliance is expected for all businesses with public accommodations, regardless of business size. Public accommodations are defined as businesses that invite the public into their facility to purchase goods or services. If you serve customers or clients on-site, you are considered a public accommodation for ADA purpose, even if your "business" is a nonprofit organization.
What should I do first?
The U.S. Small Business Administration (SBA) offers a host of resources to help small business owners achieve ADA compliance. If your ability to achieve compliance is limited by a lack of resources, the SBA recommends you address ADA compliance in stages, starting with making your parking lot, sidewalk, and other exterior features more accessible to people with disabilities.
After you have addressed exterior accessibility concerns, the ADA recommends that you work on improving the accessibility of your product sales areas (aisles, counters, shelves) and then finally, bring your restrooms and other areas into full ADA compliance.
Share this article
---
Additional Resources for Entrepreneurs