Smart and Affordable Marketing
7 Marketing Programs for Small Business Owners
What was your last outbound marketing campaign? Some entrepreneurs get so busy, they forget to market their products and services. Here are seven easy, low-cost marketing ideas that can jumpstart your marketing efforts and grow your customer base.
To speed your company's rise in profits, follow these seven low-cost marketing programs from the Small Business Administration (SBA) that you can easily have fully implemented by next week.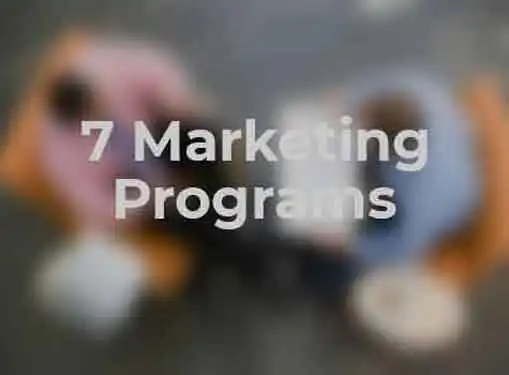 1. Survey your customers
That's right. Ask your customers what they think. You're particularly interested in finding out the answers to these five questions:
Why do they purchase from you?
How do they use your product or service?
What do they like (or dislike) about doing business with your company?
How do your company's products and services compare to those of the competition?
What things does your company do that angers or pleases them?
Write these questions up in a short form, send it to clients and ask them to return it. For best results, give clients a self-addressed, stamped envelope and allow them to answer anonymously. Also, survey all your customers over the course of a month or so. And don't be discouraged if you don't get more than a 1 or 2% return.
You might also consider using an online survey company, such as SurveyMonkey, to create a Web survey. You'll be given a URL to your survey that you can simply post on your Web site, print on postcards, or paste into e-mails. And you'll be able to watch and analyze results as they come in.
Whether you get the survey results back online or via snail mail, do make sure to deal with any problems that clients bring up. Even if only one person mentioned it, chances are good that the same issue bothered some of the clients who didn't fill out the questionnaire.
2. Follow up on every sale
Don't wait to survey your customers just once a year. Every time a client buys from you, ask him or her how you can improve your products and services.
Create a short questionnaire by writing down every single question you would like to ask your clients. Then winnow that list down to the essential information you absolutely need to know. Don't ask more than 12 questions; six is ideal. Send self-addressed envelopes to make returning the questionnaire less of a hassle.
3. Write customers a personal letter
Customers love personal service. Use the information in your company's database to write individual letters to clients. Thank the customer for purchasing from you. Note the products that the client recently purchased and offer information about other products that the client might be interested in.
In fact, sign up your repeat customers for monthly mailers about new products, advance notices about sales or special members-only coupons. Experts agree that one key to loyal clients is follow-up.
The point is to offer information and products that the customer will find valuable, not just services you'd like to sell. Add a handwritten note at the end and offer to follow up your product suggestions by telephone. You may be surprised at how much extra business you can generate.
4. Give free samples or offer free demonstrations, consultations or seminars
Food and beverages are a natural for free samples, which almost always get customers' attention.
But not all products allow you to offer a "taste" of your new products to customers who already purchased products from you. Instead, if you provide a service, consider giving free demonstrations or consultations. Offer to visit your clients' offices to explain the services you offer. Don't speak longer than 15 minutes and spend only about four of those minutes "selling" the product. End by offering clients an easy way to sign up for your services.
5. Hand out coupons to generate sales
Coupons are a tried and true method for generating sales. You can include them in your invoices, have your sales team pass them out or, if you have a store, leave them by the cash register.
Before you create a coupon yourself, gather a good sampling and study them. Then be sure to include exactly what the coupon offers in large, bold lettering, as well as an expiration date so customers will use the coupon quickly.
Coupons work best when you repeat the offer four or five times on a regular basis. Always keep track of how successful the coupon is by tallying how many coupons are redeemed.
6. Create a contest to build awareness of your business
Everyone loves a contest. But before you start, check your local and state laws to be sure sweepstakes are allowed.
Whatever you do, plan your contest carefully. Will you offer just one grand prize? Will everyone get something just for entering? You can use almost anything to generate interest, but make sure the prize ties in with your business. After you've decided on the prizes, create an entry form that is clear and roomy enough for entrants to print all of their vital statistics. It's essential that you can collect all the entries easily. If people are entering via e-mail, can your server handle the extra traffic?
Once you've chosen a winner, publicize the happy recipient (because of course you had the person sign a release) with photos and announcements in the local press.
7. Reward your best customers
Research shows that it takes more effort and money to get a new client than it does to keep an old one. So naturally it follows that you should absolutely keep your current clients happy.
Find out what they like and give them more of it. Or talk to your clients and ask what keeps them up at night. Then create a product or service that will help them.
Offer long-term clients a discount or invite them to a special "preview" event to unveil new products. Send them holiday cards or send cards for their birthdays or anniversaries. Some enterprising businesses even send birthday cards to their clients' children.
If nothing else, just make clients feel special and always thank them for their business. It's doubtful that any client in business history has ever been over-thanked.
Share this article
---
Additional Resources for Entrepreneurs