Work From Home Customer Service
Benefits of a Work from Home Customer Service Department
What's driving the uptick in work-from-home customer service? We take a look at the benefits of employing home-based customer service agents.
More and more small businesses are waking up to the benefits associated with a work-from-home workforce.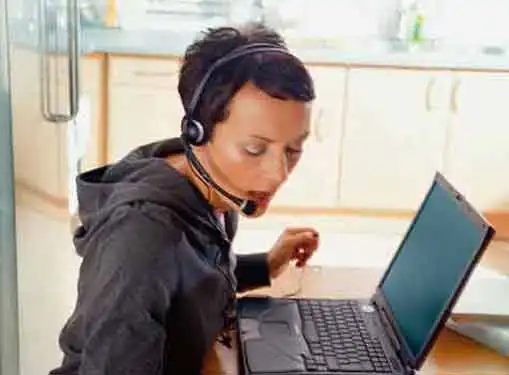 Instead of driving to the office, work-from-home employees leverage technology to punch in from a home-based workstation. Employees love the arrangement and employers often receive more productivity than they do from onsite personnel.
But are work-from-home arrangements feasible for customer service employees? You bet! Over the past several years, many companies have eschewed offshore call center outsourcing and embraced work-from-home customer services solutions.
Work-from-home call center can be achieved through a third-party provider or created in-house depending on your business model. Either way, here are just a few of the many benefits you can receive from a work-from-home customer service department.
Employee flexibility. One of the reasons employees enjoy a work-from-home arrangement is because it gives them much more flexibility than an on-site employment scenario. In addition to eliminating their commute time, work-from-home employees benefit from greater scheduling flexibility and a more relaxed work environment. For employers, this translates into a happier workforce and productivity gains.
More diverse talent pool. Work-from-home customer service provides your company with a larger and more diverse pool of job candidates. Your recruiting strategy is no longer limited by geographical restrictions, so you can hire based solely on job qualifications. At the same time, you don't have to worry about cultural barriers that are common with offshore CSR outsourcing.
Reduced costs. Many employers don't realize that it costs substantially less to maintain a work-from-home employee than it does to maintain one that is located onsite. According to recent studies, it costs employers approximately $30 per hour to maintain an agent in a call center versus approximately $20 per hour for a work-at-home customer service rep.
Staffing flexibility. Work-from-home customer service reps give employers the ability to meet highly flexible staffing requirements. It's easy to increase or decrease work-from-home call center hours - and that's a big plus for companies that experience seasonal fluctuations or variable revenue periods.
Technological integration. By necessity, home-based CSRs use business technology more than onsite staff. This can be an advantage if you're relying on technical integration to consolidate workflows or data streams.
Share this article
---
Additional Resources for Entrepreneurs