Good Cities for Entrepreneurs
Best City for Technology Companies
Chicago has transformed itself into a great city for technology startups. Here are fifty reasons why Chicago is the best city to locate a technology company.
When choosing which city to locate a startup business in, it pays to do your homework.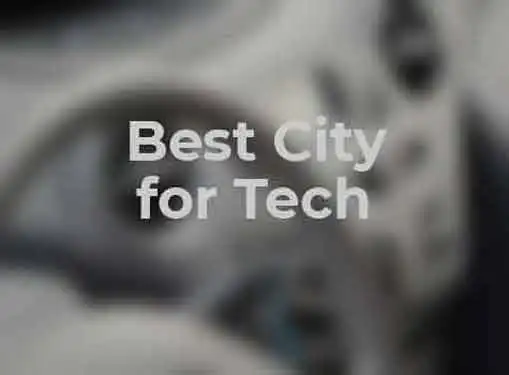 For startup technology companies, Chicago is an excellent city. Here are fifty reasons why Chicago is a good place to start a technology business.
VIBRANT ECONOMY
Great Local Economy. In the past decade, the Chicago area created 500,000 new jobs. If Chicago were a country, it would be the 18th largest economy in the world, ahead of Taiwan, Argentina and Russia.
FAST-RISING TECHNOLOGY SECTOR
Strong Chicago Technology Sector. According to Forbes ASAP magazine, Chicago is the country's fourth largest technology region. Chicago recently moved past Boston with a 97% surge in high tech and Internet investment.
Strong Illinois Technology Sector. Illinois has the sixth largest high-tech economy in the United States. A recent University of Minnesota study found that the Chicago metropolitan area has more high-tech jobs - 347,100 -- than Silicon Valley, Seattle, Boston and other high-tech centers in the United States.
Adept at Exporting Technology to Other States and Countries. Technology makes up more than half of Illinois' exports, ranking our state third in total technology exports in the country.
ACCESS TO PEER COMPANIES
Many Peer Companies. When you start a high tech company in Chicago, you are in good company. Chicagoland is home to 11,600 technology companies.
LOCAL SUCCESS STORIES
High Tech Success Stories. Companies like Motorola, PLATINUM Technology (sold to Computer Associates for $3.5 billion), and U.S Robotics (sold to 3COM) have demonstrated that great technology companies can be built in Chicago. Alumni from Chicago's success story companies frequently invest in new companies and join their employee ranks.
ABILITY TO RECRUIT HIGH TECH TALENT
Abundant Programming Talent. If you are starting a high tech company, avoid cities that have predominantly low-tech, low-wage jobs in heavy industry and come to Chicago. Chicago has the largest number of computer programmers of any American metropolitan area. We employ 235 percent more programmers than Silicon Valley.
ACCESS TO CUSTOMERS
Proximity to Customers. Customers are just a few minutes away. If you want to sell to consumers, Chicago is the third largest consumer market in the United States, just behind New York City and Los Angeles. If you sell to businesses, it helps that Chicago is a national center of transportation, manufacturing and trade.
QUALITY OF CUSTOMERS
Diversity of Customers. Chicago has a diversity that helps startups. When you think of Silicon Valley, you think of one thing: high technology. When you think of Chicago, you think of manufacturing, transportation, financial services, agribusiness, arts and culture. That creates a much broader base of prospective customers.
Better Local Customers. When they sell products in Silicon Valley, it's frequently an incestuous phenomenon - you buy products from companies your venture capitalist invested in because he or she strongly recommends it. As such, it's not necessarily true validation of a product's desirability in a real market. In Chicago, the people are real, and the companies are real. It's not make believe.
Longer Lasting Customers. The fast-moving R&D mentality of Silicon Valley has a lot of benefits but it has its downsides as well. If you sell something to a customer in Silicon Valley, they may not be around in a year. If they are around, there's a great chance they will jettison your product for something else within a short period of time. Chicago companies tend to be more loyal, creating longer lasting partnerships with their vendors.
BETTER RECRUITING AND EMPLOYEE LOYALTY
Employee Talent. We have good educational systems that funnel well-educated graduates into the workforce. We have great companies that enhance an already strong workforce.
Employee Loyalty. In Silicon Valley it's not uncommon for an entrepreneur to wake up one morning and find out that all the employees have left to join a competitor or start a new company in a completely different space. Chicago employees simply don't do that kind of thing. That's one less thing for an entrepreneur to lose sleep over.
Search Firms. Every national search firm of note has a big presence in Chicago.
Immigration Lawyers. Chicago has a strong base of immigration lawyers who can facilitate your obtaining H-1B visas that allow highly skilled foreign workers to enter the country and join your company.
INTELLECTUAL CAPITAL
Educational Institutions. The Chicago area and Illinois are home to world-class educational institutions with phenomenal research, business, and computer science capabilities. Premier educational institutions include the University of Chicago, the University of Illinois at Champaign-Urbana, Northwestern University, the University of Illinois at Chicago, Northern Illinois University, Southern Illinois University, and the Illinois Institute of Technology.
Research Labs. Argonne National Laboratory and Fermi National Laboratory are two of the leading research labs in the country. They both actively solicit partnerships with local entrepreneurs to commercialize promising technologies.
THE TECH COMMUNITY
Active High-Tech Startup Community. There are many organizations and networking events in which high tech entrepreneurs mingle, exchange ideas and do business together.
Numerous Tech-Centric Publications. Chicago has three or four publications that keep entrepreneurs in touch and promote high-tech growth in the area.
STAYING UNDER THE RADAR
Stealth Potential. In Silicon Valley, life is one big cocktail party and there are no secrets. Everybody knows what everybody else is doing. In Chicago, you can start a company to do something novel and you can keep it a secret. That means you get more time without competition, and in many cases that can be the difference between success and failure.
COSTS LESS TO DO BUSINESS IN CHICAGO
Reduced Need to Travel. Silicon Valley companies have to fly across the country to sell their products. Chicago companies can hop in a cab or take public transportation across town.
Lower Travel Costs. Because Chicago is the world's largest transportation hub, airfare in and out of Chicago is cheap. Moreover, direct flights are more likely to be available if you are traveling from Chicago than if you are traveling from a smaller town.
No Need to Spend Money on Creating a Reseller Channel. In Chicago, customers are just around the corner so early-stage Chicago tech companies don't need to invest as much in building a sales channel. In contrast, Silicon Valley companies labor to find value-added resellers in Chicago who will represent them and help them export their products.
INFRASTRUCTURE
Great Communications Infrastructure. More data moves through Chicago's Internet infrastructure than anywhere else on earth. The largest telecommunications carrier hotel in North America is in downtown Chicago.
Strong Transportation Infrastructure. Chicago has phenomenal public transportation and its highways allow its residents to quickly move around the city and do business. Midway Airport and O'Hare Airport provide easy access to the rest of the country and the world.
Wired Schools. Chicago is the first large city in America to have developed an integrated, detailed business plan to bring the benefits of technology into our school system - from the pre-kindergarten level to community colleges.
PRO-TECHNOLOGY GOVERNMENT
High Tech Advocates in Local Government. Chicago is big on technology. To boost Chicago's technology sector, the city recently brought together private industry CEOs and formed the Mayor's Council of Technology Advisors. They produced an action plan of specific short-term and long-term goals for industry and infrastructure development, education and workforce training and universal access to City services by way of technology.
High Tech Advocates in State Government. Illinois is creating America's largest governmental technology and biotech development plan - a $2 billion, 5-year program.
Illinois Does Technology Right. In a recent national survey conducted by the Progress & Freedom Foundation and the Center for Digital Government, every state was ranked on their use of digital technology to make government more accessible and improve services provided by government. For the 2001 survey, Illinois was ranked the best in the nation.
GREAT QUALITY OF LIFE
Quality of Life. Chicago provides high tech entrepreneurs the opportunity to live in an established city with strong neighborhoods, rich cultural attractions and a great quality of life.
Nice Place for Your Friends and Relatives to Visit. Last year, over 30 million people visited Chicago. People want to come to Chicago.
Great Housing Stock at Reasonable Prices. You need a million dollars to buy a shack in Silicon Valley. In Chicago, we have a rich architectural tradition that has resulted in our having tons of beautiful homes and apartments.
STRONG AND ACTIVE INVESTMENT COMMUNITY
Access to Venture Capital. Chicago has an active professional investment community.
Angel Investors. There are numerous angel investors and angel investing groups in Chicago.
Hmmmmm. Sixteen more to go. Obviously, this is a work in progress and not a finished piece. If you have some additional Chicago or Illinois strengths that aren't on this list, please leave a comment below. Eventually, we will get to 50.
Share this article
---
Additional Resources for Entrepreneurs