Billboard Advertising
Costs of Billboard Advertising
How much does billboard advertising cost? Are the costs of billboard advertising worth the money? Using billboards to advertise your products and services might be a smart move, and billboard prices might be less than you think.
Billboard advertising can be an effective and cost-efficient way for entrepreneurs to spread the word about their products and services. The Outdoor Advertising Association of America estimates that U.S. businesses spent more than $5.5 billion on outdoor advertising in 2003 and is anticipating a healthy increase in 2004. No matter how you slice it, billboard advertising is on the rise in America.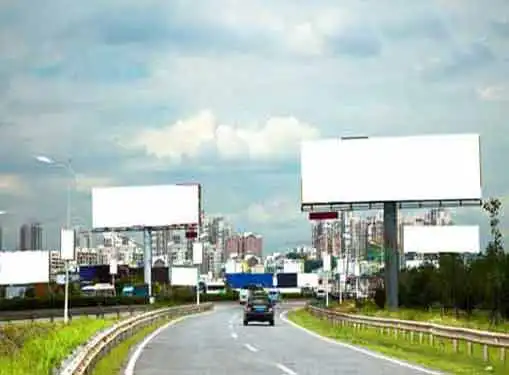 There are a number of reasons for the recent surge in billboard advertising, not the least of which is cost efficiency. Compared to other forms of advertising, billboards are a relatively inexpensive way to get your point across to the general public.
Consider this: A newspaper ad is only good for a day and a television commercial only lasts about thirty seconds. But a billboard ad is working for you twenty-four hours a day, seven days a week.
The cost of billboard advertising ranges from about $700 to $2,500 a month. At that rate, ten billboards could run as much as $25,000 per month. That sounds like a lot of money, until you realize that a full-page ad running for one day in a major newspaper costs about the same.
Advances in technology have also contributed to billboard advertising's cost efficiency. In the past, billboards had to be hand-painted - a time-consuming and costly venture. But with today's computer technology, billboards are designed on a computer screen, printed to vinyl or poster paper, and glued to the billboard structure. The result: Higher quality ads in less time for less money.
Before you jump into billboard advertising for your business, there are a few things you need to understand.
The amount of information contained in a billboard ad is limited. If you expect your billboard to convey as much information as a print ad - forget it. It's just not possible. Keep your ads short and catchy. When it comes to billboards think more visuals, fewer words.
Billboards are effective, but they do have their limitations. For that reason, (and others), smart business owners view billboard advertising as one part of a balanced marketing strategy. An integrated marketing strategy involving print, broadcast media, and billboards is key for attracting and retaining new customers.
Know your market. Since the majority of people who own automobiles are typically more affluent and mobile, billboard ads tend to target middle- to upper-income demographics. It also pays to be aware of the traffic patterns of your target customer base. This will be invaluable in helping you find the right placement for your business' billboard ads.
Share this article
---
Additional Resources for Entrepreneurs