Using Business Brokers to Sell a Business
Broker Agreements When Selling a Business
The first step in selling your business is to hire a business broker and sign a broker agreement, the document that shapes your brokerage relationship.
Instead of selling their business themselves, many sellers recruit the assistance of a business broker.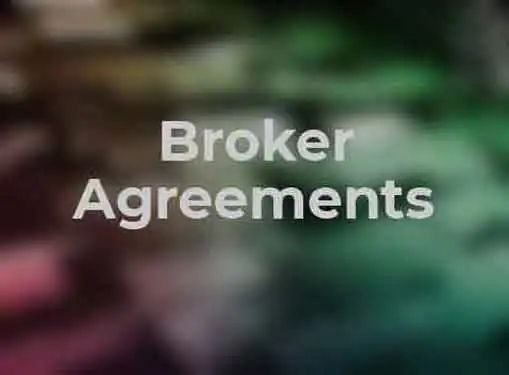 Business brokers offer professional advice and play a critical role in connecting their clients with qualified buyers. They can also be invaluable in performing due diligence, valuation, negotiations, and closing requirements.
Like any other business arrangement, the relationship between the broker and seller is formalized in a contract or broker agreement. Your broker agreement dictates the details of the relationship with your broker, particularly in the area of broker fees and compensation. Once it's signed, you're locked into its terms, possibly even after your relationship with the broker has come to an end.
Remember, a broker agreement is a legally binding document with potentially long-lasting consequences. Here's what you need to know about broker agreements when it's time to sell your business.
Finding the right broker. Good broker agreements begin with finding the right broker. No matter how strong your broker agreement is in protecting your interests, if you sign the wrong broker your sale is destined for failure. Look for qualified brokers with CBI (Certified Business Intermediary) credentials and proven experience in your industry.
Term of the agreement. Broker agreements specify a term for the relationship, usually in the range of 6 to 12 months. It may take your broker at least that long to find an appropriate buyer, especially if you are holding out for top dollar. During this time, the broker will have exclusive listing rights meaning that you are not free to sign another broker until the term described in the broker agreement has expired and the broker has been notified that you are terminating the relationship.
Agreement "tail." When a broker agreement expires, the legal relationship remains intact until either you or your broker has officially terminated it. After the agreement has been terminated, the broker may still be entitled to a commission if you sell your business to a buyer the broker contacted when the agreement was still intact. Called the "tail", your lingering commitment to the broker could last between 12 and 24 months, as specified in the broker agreement.
Other considerations. You may want to explore the possibility of including a clause in the agreement that limits broker compensation in the event that you identify a buyer on your own. Regardless, use clear language to describe the conditions that apply to "tails" and seller-identified prospects.
Share this article
---
Additional Resources for Entrepreneurs