Using Business Brokers
Pros and Cons of Using Business Brokers
Are business brokers worth the fees they charge? If you are buying a business or selling a business, this article provides a wealth of useful information on the value that business brokers provide. We discuss the pros and cons of using a business broker.
Many buyers and sellers of businesses will use a business broker to assist with the business-for-sale transaction, and there are many good reasons why that's the case.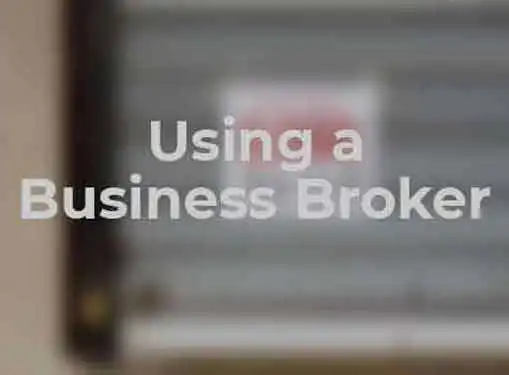 In simple terms, business brokers act as middlemen between business buyers and sellers. But they offer much more than that.
If you are buying a business or selling a business, it helps to understand the role of business brokers in the process. Here are some of the pros and cons of using a business broker.
Advantages of Using a Business Broker
Assistance in Valuing a Business. Business brokers have extensive knowledge of what businesses are worth and can usually derive a business value that is fairly accurate. Without a business broker, it is tough for sellers to accurately place a realistic valuation on their business.
Help in Presenting the Business. Business brokers are adept at packaging up a business to show it in its best light. Without a business broker, a seller may not be able to market their business in a way that is attractive to buyers.
Aid in Attracting Buyers. Business brokers know how to attract buyers. In many cases, they have a database of buyers and send out business-for-sale alerts to their database whenever they have a new business listing.
Confidentiality. Business brokers work in a confidential manner, keeping the sale of the business in confidence so that competitors, employees, suppliers and others are not informed that the business is for sale.
Experience in Evaluating Buyer Intent. Business brokers are able to quickly ascertain whether a potential business buyer is serious or just kicking the tires. In contrast, a seller who is not using a business broker may invest considerable time in courting a potential buyer who turns out not to be serious or qualified.
Ability to Convert Interest in Buying a Business into an Actual Sale. Business brokers know how to create competition among potential business buyers in a way that moves the sale of a business along. When sellers make an offer, the business broker can interpret the offer and even suggest changes to an offer that will make it more likely that the business sale will occur.
Service as an Intermediary. Buyers and sellers generally don't trust each other. The business broker can serve as a middleman to interpret communications and lead the buyer and seller towards compromises whenever possible.
Expertise in Business-for-Sale Transactions. Finally, the business broker knows all the minutiae required to close a business sale transaction. Typically, a buyer and seller may not understand all the nuances of getting the deal to closure, so it's good to have an experienced business broker involved who can facilitate the process.
Disadvantages of Using a Business Broker
One-Sided Interests. Remember that the business broker usually represents the seller. If you are a business buyer, the broker's interests will not be aligned with your interests. While most brokers are very helpful to buyers, buyers must keep in mind that the broker is not on the buyer's side.
The Broker Fee. Brokers will typically take 6-10% of the total business selling price as their commission. That's a hefty take, so many sellers may want to consider doing a FSBO (For Sale By Owner) sale and see whether they can sell their company without the assistance of a business broker.
Varying Levels of Competency. Finding a good business broker can be a challenge. The field is largely unregulated so, in some cases, individuals with little experience or expertise can hang up their shingle and declare themselves to be business brokers. Be careful. If you engage an incompetent business broker, it can be a complete disaster.
Incentive to Sell at Low Prices. A business broker gets paid when there is a sale, so they sometimes will underprice a business to sell it quickly. For business brokers, the difference between selling a business for $500,000 versus $600,000 is only 6% of $100,000 – or $6,000. For the seller, it's a $94,000 difference. By selling for $500,000, the broker walks away with $30,000, which he may be more than happy to do – even if it's at the expense of the seller.
Share this article
---
Additional Resources for Entrepreneurs