Business Card Design
Business Card Mistakes to Avoid
A business card is one of the simplest and easiest ways to promote yourself and your business -- but it's not a no-brainer. If you mess it up it could cost your business your next big client.
Business cards have been around forever. Yet they continue to be one of the most effective ways to make a good first impression on a prospective client or business associate.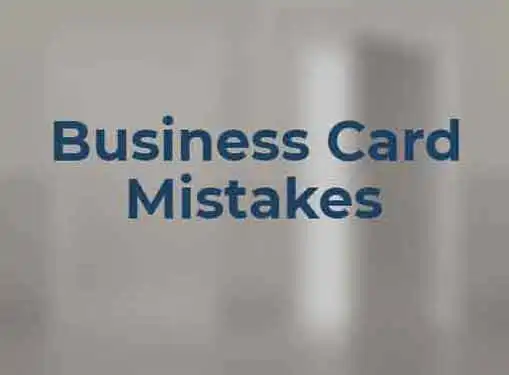 That's why it's surprising that more people don't know the difference between a great business card and a complete disaster.
Is it possible to create your own business cards? Maybe. But whether you outsource the production of your business cards or create them yourself, here are a handful of mistakes that you should avoid at all costs:
Too Cheap. Nine times out of ten, do-it-yourself business cards have the appearance of something that was created in a middle school technology class. Sure, it's cost effective to buy a kit and crank out a hundred cards on your home printer. But in the end poor quality paper, perforated edges and bad print quality will cost you customers. Saving money is a good thing - just don't skimp on your business cards.
Too Plain. If your business card looks like everyone else's business card, you probably haven't accomplished anything. The idea is to create a design for your business card that gets noticed. The best business cards effectively use graphics, photos and other features that make them stand out from the crowd.
Too Creative. Attracting attention is one thing. But when it comes to business cards, strange is never a desirable characteristic. Non-standard sizing. Unusual paper choices. A picture of your pet. Unless your business is located in a highly-creative industry, none of these things will win the admiration of either your clients or your peers.
Too Busy. One of the most common business card mistakes is to include too much information. A business card is not a brochure. If the amount of information on your business card design forces you to reduce the font to a barely readable size, it's time to go back to the drawing board for a more abbreviated version.
Too Straightforward. Although your name and contact information take center stage on your business card, it's important to remember that your business card is a marketing tool. If your business card only contains your contact information, you've passed up an opportunity to communicate something important about your company. What's the one thing you think people should know about your business? Find a way to put it on your business card.
Share this article
---
Additional Resources for Entrepreneurs