Business Leadership Advice
Business Decisions Versus Personal Decisions
Written by Andrew Goldman for Gaebler Ventures
When we let our emotions cloud our judgment, we are not making sound business decisions. Make sure you don't make this common mistake and maintain a level head.
With all the work that the small business owner puts into running a company, it can be difficult to separate personal feelings from business decisions.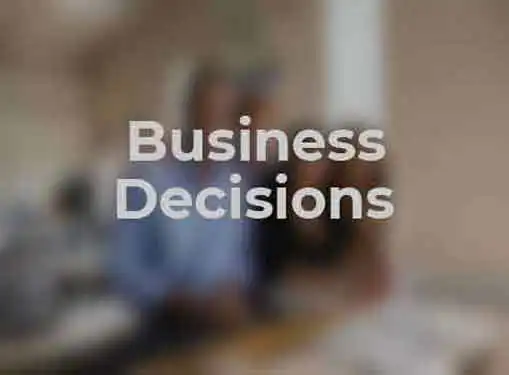 While our personal feelings can influence our business decisions, we should not let them hinder our business or stunt our growth. When personal feelings or emotions stand in the way of a company progress, it's time to take a step back and analyze the situation from a purely objective point of view.
There are times when personal decisions are made and warranted. A small business owner, who is passionate about the environment, may be willing to spend more money on an alternative form of packaging that is more environmentally friendly. While this is acceptable and common in business, the point where an objective stance needs to be taken is if the company is not surviving.
If the business is losing money and a switch to a different packaging would turn the ship around, it may be time to separate the personal feelings and make a sound business decision.
While the above example is rather extreme, it illustrates an important point. A business cannot survive if it does not generate enough revenue to sustain itself and cover its costs. If decisions are being made that prevent the business from surviving, it's time to make changes or terminate the operation.
While personal feelings can drive a business that is doing well, they can also put the nail in the coffin. If a company is suffering it's time to make some hard decisions about changing the "personal perspective".
I consulted for a company whose CEO ran the business with a lot of personal emotion. He rejected suppliers if he didn't like the salesperson, and he would stop selling to customers who provided negative feedback. He had an exhaustive search for a production manager while his production leader was more than capable of the job. The CEO had some prior arguments with the production leader and did not want to promote the employee. Serious money was being spent in a hiring search when the right candidate was in the company the whole time.
The CEO was letting personal feelings get in the way of running the business properly. After some discussion, the CEO relented and the production leader was promoted to production manager. The situation was a success.
I am not suggesting running a business without a heart or soul. What I am suggesting is that if you find yourself making decisions because of your personal feelings; take a minute to observe the situation objectively. Put yourself in someone else's shoes and see if you would be making the same decision.
Gut feel and manager's intuition can be extremely helpful tools, but personal emotion can be a major hazard. If you find your decision is greatly different from what the numbers are or what your colleagues are saying, it's time to separate the personal feelings and make a business decision.
Andrew Goldman is an Isenberg School of Management MBA student at the University of Massachusetts Amherst. He has extensive experience working with small businesses on a consulting basis.
Share this article
---
Additional Resources for Entrepreneurs