Free Sample Business Forms
Business Forms
Business forms are your best bet for maintaining accurate records. These days, there are a wide variety of reliable forms available for small business owners. Here's what to expect when you begin your search.
Business forms are part of every small business office environment.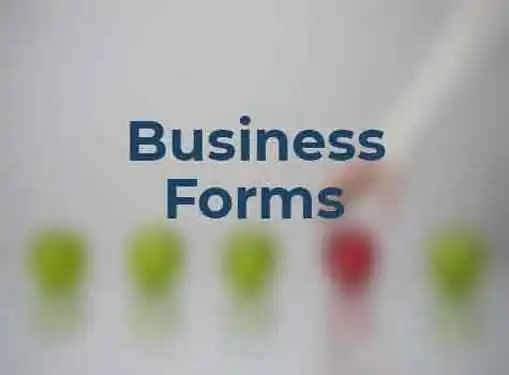 Instead of re-creating important documents and reports from scratch, office personnel can use forms to improve efficiency and generate consistently accurate business paperwork.
If it's been a while since you've shopped for business forms, you'll quickly discover that technology is playing a larger role than ever before. While companies once relied on fill-in-the-blank photocopies or even a generic word processing document, today's business forms are available in delivery models ranging from form templates to advanced business form software.
Yet despite the digital nature of most modern business forms, best practices require owners and managers to devise methods for storing and archiving documents in secure locations. A sophisticated piece of business forms software can lull you into a false sense of security unless you have taken steps to store digital and paper versions of executed forms in onsite and offsite locations.
When it comes to business forms, if you need it there is a good chance you'll find a third-party provider that has a form for it. With that in mind, there are several types of business forms that are designed to make your life a whole lot easier.
Startup. The startup phase is a busy and chaotic time. Business forms create more efficient startup processes with proven resources for things that typically bog you down, e.g. DBAs, incorporation documents, business plans.
HR. Your human resources department may be the most form-intensive area of your business. To conduct adequate HR functions, you'll need a broad catalog of forms and documents. Hiring applications, annual review forms, disciplinary policies, even an employee handbook - business forms can help standardize all of these documents and more.
Accounting. Modern accounting software has eliminated many of the forms that were once part of standard office routines. However, there are still some business forms (e.g. time sheets, expense reports, etc.) that can improve your company's accounting accuracy and functionality.
Legal. Legal document requirements are another popular area for business forms. Small businesses use prefabricated legal forms for documents like contracts, nondisclosure agreements, leases and other legally binding agreements.
Sales. Sales forms are designed to help your business more effectively manage your sales processes. Specifically, they track things like sales volumes, sales tax, inventory levels and other data that has a direct impact on the sales cycle or selling process.
Share this article
---
Additional Resources for Entrepreneurs