CRM
CRM Mistakes
Customer relationship management (CRM) is centered on the concept of building strong connections with customers. If connections with customers are important to you, you'll want to avoid the most common CRM mistakes.
CRM has a lot to offer small businesses.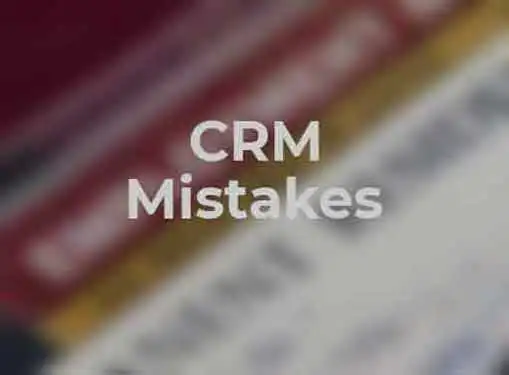 As a customer management tool, it gives you the ability to stay on top of your relationships with existing customers. But when it's integrated with marketing and sales divisions, its ability to drive your bottom line goes through the roof.
Many business owners miss the real value of CRM because they mistakenly perceive it to be just one more piece of small business technology. Rather than using it to coordinate their sales and marketing cycles, they limit it to recording customer data and feedback.
That's just one of the CRM mistakes that plays out everyday in small business. Other CRM mistakes can be just as deadly. Since you're already paying for CRM, it just makes sense to get the biggest bang for your buck – which you can accomplish by avoiding these common CRM mistakes.
Segmentation. When it comes to CRM the name of the game is integration, not segmentation. CRM should be at the heart of your company's sales, marketing and customer service processes. By helping your employees recognize the systemic value of CRM, you can multiply its ROI and its impact on current and prospective customers.
No customer contact. CRM exists to strengthen your relationships with customers. But if the data lies dormant in the system it won't have any value with your existing customer base. Don't hesitate to use CRM data to market or sell existing customers.
Too much customer contact. On the other hand, you should have enough self-disciple to avoid using CRM-generated customer data to unleash a plague of marketing contacts on your customer base. Just because you have the information doesn't give you permission to use it irresponsibly.
Outsourcing. There are plenty of providers who will outsource CRM functions. In most cases, outsourcing is a fatal misstep because outsourced CRM rarely results in a fully integrated and customer driven CRM experience.
Lack of empowerment. CRM has the potential to put your employees in direct contact with customers on a more consistent basis. But if you don't empower your employees with the authority they need to satisfy customer requests, it could be counterproductive.
Share this article
---
Additional Resources for Entrepreneurs