Finding Space for Your Business
Choosing a Good Business Location
Written by Mac Cassity for Gaebler Ventures
Where should you locate your business? This is an important question that plagues all new business owners. The answers are not always easy but taking the time to take some valid points into consideration may help ease the pain of deciding a bit. This article offers some great tips to think about when this decision is on your list of things to do.
Realtors are certainly famous for their saying, "Location, location, location!"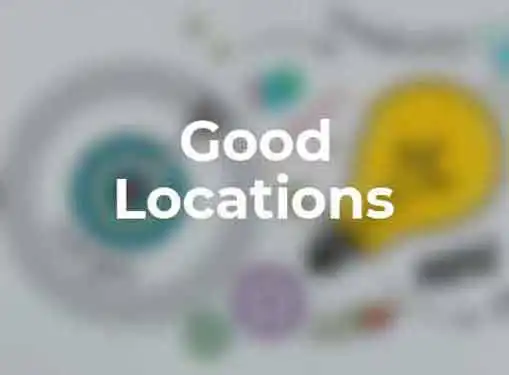 Where you are in the world can play a huge role be it for the sake of the value of your home or the type and amount of traffic your business gets. Many people take this choice lightly and often pay more attention to price as their driving deciding factor, but oftentimes this can be a HUGE mistake.
Let's take a look at the subject of location and 3 reason why choosing a good one can be a crucial factor in your overall business success.
Good business locations can be more expensive but can deliver higher quality clientele- Listen, you might have limited startup funds, but choosing a business location is a decision you might have to live with for a LONG time, often years in some cases. Just because you got a "good price" on a business space does not mean you should lock into it. Oftentimes that price is associated with neighborhoods that are on the decline or a building that is as well. Locking in a business location with a high rent often means you are in the proximity of other businesses that are doing very well due to heavy traffic and clientele with money to spend. These two variables can be huge drivers in price. Take those factors into consideration when deciding on your location, NOT just trying to get the lowest price.
Good business locations can help increase your respect level among the public at large- Let's face it, people judge. Your business address will be a deciding factor on whether or not some people even come to visit at all. If it is in a nice upscale neighborhood, then your address is an asset. If instead, your address brings to mind an area where many higher end individuals would not care to frequent, it may be considered a liability. A new business and the impression it makes will stick in the minds of prospects for years...
Good locations often experience less crime...less crime equals more customers- This can be a huge factor in deciding where your business should be located. High crime areas should be avoided at all costs. Sure, you can often get a "deal" on a building or a space in these areas, but that is in direct relation to the fact that no one wants to locate their business there. Many first time business owners believe their space and their business model can overcome this obstacle and still pull in traffic but this is the exception far more times than it is the rule. Public safety is a huge issue for most of the buying public. If your business location is not "people friendly" then don't expect to see many people visiting it.
The bottom line is to take your time when choosing a business location. Factor in the things mentioned above and look at ALL aspects of how your location can affect your business. If the perfect combination of price and location does not exist, ask yourself if you HAVE to open your business right now? Markets often change and the high priced rent you are asked to pay now may go down in a few months if no new businesses move in. It is possible that patience can be your saving grace. Your business location will say a lot about you and your business...take the time to choose it wisely and reap the benefits.
Mac Cassity is an entrepreneur and business person. Mac began writing professionally when he was twelve years old for a comic book collecting publication. Today, he has experience in insurance agency management and runs his own freelance writing business, Mac the Knife Articles.
Share this article
---
Additional Resources for Entrepreneurs