Sales Training
Closing the Sale
How can your startup improve its closing sales technique? If you're not closing sales you think you should, read this article. These sales training tips work wonders, whether you are new to sales or a seasoned pro.
Ultimately, every sale comes down to the close - the moment of truth you've been building up to throughout the entire selling process. Is it stressful?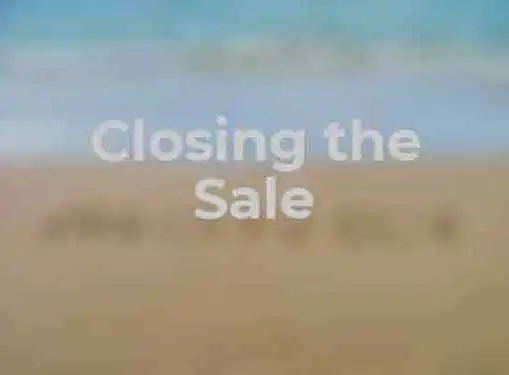 Absolutely, because unless you are able to convert qualified leads into sales, all of your efforts to sell your product will have been wasted.
Given what's at stake, it's no wonder that many sales people find closing the deal to be the most uncomfortable and awkward part of their job. But that doesn't necessarily have to be the case. There are a number of things that you can do to reduce the stress and discomfort of the close.
Lay a solid foundation. The selling process should have a natural flow so that when the time comes to close the deal, no one is taken by surprise. From the very beginning of the relationship the customer needs to understand that your goal is to help them make a decision to buy your product. As the relationship progresses, your job is to build rapport and provide them with the information they need to make their decision.
Know the signs. As the customer gets nearer to making a decision, she will start to give you signs that the time for the close is approaching. These signs often come in the form of specific questions related to the product or service that will be delivered after they sign on the dotted line. For example, if you are selling cars the customer might ask whether the model they are looking at comes in blue. If you are selling accounting services, they might ask whether you are willing to do quarterly audits. Never answer these questions with a simple "Yes" or "No" response! Instead, respond with a closing question such as, "Would you like to me to see if we have a blue one in stock?", or "Would like me to schedule an audit for this quarter?"
Ask for the sale. You've heard it said before, but the most common reason why people don't buy is that the sales person never asked for the sale. At some point you just have to go for it and ask the customer to make a decision. There are an endless number of techniques to help you do this, but the effective ones have two things in common - they suggest specific terms (e.g. 100 units at $5 per unit delivered in a week) and they demonstrate respect for the customer. People want to know what they are agreeing to, but they also want to be treated like a person and not like a number on a sales report. Do those things and more often than not, you'll make the sale.
Be prepared to overcome objections. Despite your best efforts to lay a solid foundation and close the sale, the customer might still have some objections that need to be overcome. Before you go for the close, place yourself in the customer's shoes. What lingering objections might still exist? Cost? Timing? Availability? Be prepared to meet your customer's indecision with a response that reinforces what you have been showing them in the steps leading up to the close and affirms that your product is the right product for them.
Share this article
---
Additional Resources for Entrepreneurs