Selling a Business
Confidentiality Breach Can Ruin A Business Sale
When selling a business, confidentiality is key. If employees, competitors and others find out that an owner intends to sell a business, the consequences can be extremely negative, well beyond simply putting the business sale at risk.
The issue of business confidentiality should not be taken lightly.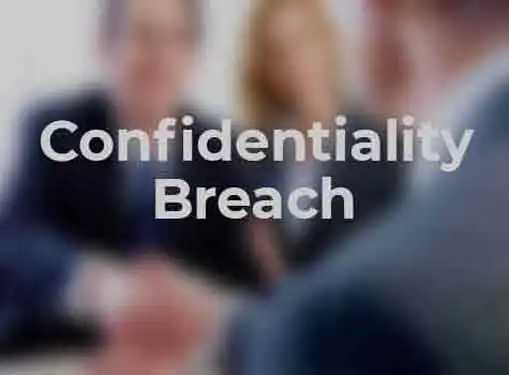 Confidentiality is vital if you hope to successfully sell your business.
Why? Well, what if someone in your organization familiar with your plans talks to a competitor? That could lead to rumors that derail a potential sale.
You protect confidential information in other aspects of your business. For instance, if you run a bakery and sell the tastiest chocolate cupcakes in the area, you don't share the magic ingredients in your hit product. Nor do you allow employees to share that recipe--even if you tell them the secret.
Confidentiality is a core to running a successful business. You discuss plans with the key executives that are essential to making your business successful. Do all employees have the same access to information? No. Information is parceled based on seniority and need to know.
Here's how business broker Domenic Rinaldi, president and managing partner of Chicagoland Sunbelt, explains what can happen when employees find out that you're selling your business:
"When employees find out a business is for sale prior to the transaction closing they become nervous and their survival instincts kick in," Rinaldi writes in a recent Biz Broker Journal blog post about confidentiality issues when selling a business. "They start to ask lots of questions and this atmosphere of uncertainty can cause them to start looking for other opportunities, become destructive or hold the deal hostage by placing demands on the buyer or seller."
Other damaging issues can occur as well. Suppliers may get antsy about billing, customers may wonder about service guarantees and vendors may suddenly seek new payment terms. Worse, key competitors could find out about the sale and use that information as leverage to steal your customers or spread damaging rumors.
When you're dealing with people outside of your business about the sale of that business--or even the launch of a new product --trust is essential. So how can you ensure the people involved will keep silent about your business dealings?
You can't guarantee complete silence, but there are steps can you take to reduce the risk. Here are a few ideas:
Request employees or partners to sign a non-disclosure agreement. While NDAs can sometimes have questionable legal standing if challenged in court, they certainly discourage people from talking. Use this technique sparingly--only for critical disclosures--as employees or partners will take them less seriously if they are constantly signing NDAs.
Only inform the necessary people, such as your accountant or attorney, about your plans. Fewer people with knowledge can help to contain the news. Also, if you have a leak, it will be easier to identify where it came from.
If you need to advertise that your business is available, keep that information vague. Don't list the business number--use your accountant's number--and don't detail the exact location, say west side of city, for example.
Only release information about your company to potential buyers who have been vetted for you by a business broker or your attorney. And only provide information that is critical to the sale, such as a revenue history. Do you need to release information on your customer base? Probably not.
In general, when you decide the time is right to sell your business, keep that information close to you. The more people you talk to who are not trusted confidants, the more likely it is that you will be sending damaging signals that will, inadvertently, lower the sales price.
Share this article
---
Additional Resources for Entrepreneurs