Small Business Cars and Trucks
Considerations When Buying a Company Van
In the market for a company van? You'll have lots of choices, they just won't all be capable of delivering the results you're hoping for. Shop around, but before you pull the trigger mull over our considerations when buying a company van.
Company vans and small businesses are like peas and carrots: They just naturally go together.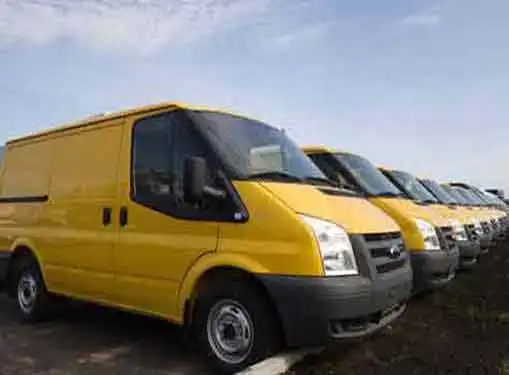 In some companies, a van is a luxury; in others, it's a vital piece of working capital. Either way, in many businesses it will eventually be time to buy a new company van.
Buying a company van is easy. Buying a company van that is right for your business and fits within your budgetary parameters is a little trickier. It can be done without too many headaches and hassles, but only if you enter the buying process as an informed business buyer.
Consider it a given that van dealers will want to sell you the most expensive van on the lot. Deciding whether you need the most expensive model or whether a less expensive version will suffice is what the art of business van buying is all about. At the very least, think about these company van buying considerations before you make any decisions.
Size & capacity. Not all vans are created equal, at least not in terms of size and load capacity. Before you head off to the showroom, think about how much van you need. What will it be carrying? What are your length/width/height requirements? How much weight does it need to handle?
Interiors. Now that you know how big your van's dimensions and chassis need to be, it's time to think about what you want the interior to look like. Shag carpeting and surround sound aside, most vans come with options for plywood, wood slats, plywood/slat combos or bare metal interiors. This is actually a more important decision than it seems because your interior will determine how your cargo will be secured.
Cargo features. Whether you're delivering flowers or building supplies, cargo loading features are worth thinking about. Side doors are nice, but are they essential for your business model? If you will be delivering heavy products, you may need to make accommodations for ramps or forklift loading.
Lighting. Bet you didn't think about lighting, did you? Most new van shoppers don't. But without proper interior lighting your van could be rendered useless. The cheapest option is to go with natural ambient light supplied by a translucent roof. If you have the cash and the need, full electric lighting is also a possibility.
Advertising. Let's see, what could you do with several square feet of flat surface area that is driven past thousands of potential customers every single day? If you're not using it for advertising, it must mean that you already have more business than you can handle. Vans are rolling billboards. Your logo and marketing information can be painted on the side, inscribed on removable panels or attached to removable vinyl/magnetic signage.
Share this article
---
Additional Resources for Entrepreneurs