Incorporating
Corporate Bylaws
Corporate bylaws . . . You've heard of them, but now that you're thinking about incorporation you need to know more about them. We've got all the information you need to create corporate bylaws for your new corporation.
Incorporation is a logical next step for many small businesses.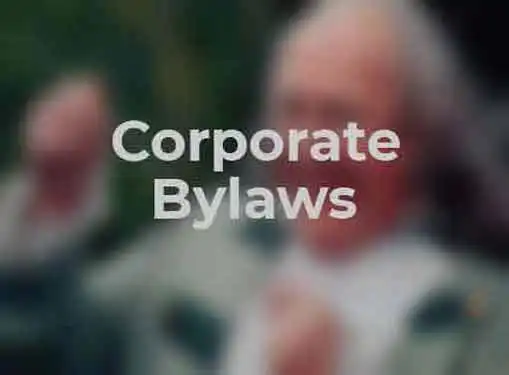 Sole proprietorships, partnerships and other business structures have a lot of benefits. But eventually, it may be advantageous to transition your company to a corporate entity, especially if you need to attract the kinds of investors who can inject significant capital into your company.
It's important to understand that while corporate bylaws are required for incorporation, they are completely separate from the Articles of Incorporation you are required to file with the state. Though they are related, you'll need to create a mental firewall between the two.
Corporate bylaws document the standards and procedures the corporation will adhere to throughout its legal life. The information you include in your corporate bylaws will have significant ramifications for many years to come, so you will need to approach bylaw creation with proper care and diligence. Here are the highlights of the information your corporate bylaws need to address.
Corporate identity. Your corporate bylaws should carefully describe your corporate identity by identifying its official name, address, place of business, etc. The corporate identity described in the bylaws must be consistent with the corporate identity established in the Articles of Incorporation.
Directors & officers. The Articles of Incorporation identify the names of the corporation's initial board members and officers. Although these names don't necessarily need to be transferred to the bylaws, corporate bylaws must describe the number of directors and officers the corporation requires.
Shareholder meetings. Corporations are required to have shareholder meetings. The number and/or frequency of shareholder meetings can very according to the needs of the company and state regulations. However, the procedures and frequency of shareholder meetings have to be included in the bylaws.
Stock classes. Corporate bylaws clearly describe the classes of stock that will be issued by the corporation and other details related to the company's stock offerings.
Recordkeeping. Recordkeeping procedures are an important inclusion in the corporate bylaws. You not only need to describe how corporate records will be kept, but also where they will be located so they can be accessed by directors, shareholders and other parties. The bylaws themselves don't need to be filed with the state, but they do need to be archived in the official corporate record.
Amendment procedures. There is a right way and a wrong way to amend corporate bylaws. The bylaws document identifies amendment procedures to establish protocols and eliminate confusion.
Share this article
---
Additional Resources for Entrepreneurs