Operating a Corporation
Corporate Records
Your corporation is legally required to maintain corporate records. But what does that really mean? And how should you organize your corporate records to stay within legal boundaries?
There are a lot of reasons why a small business might decide to incorporate.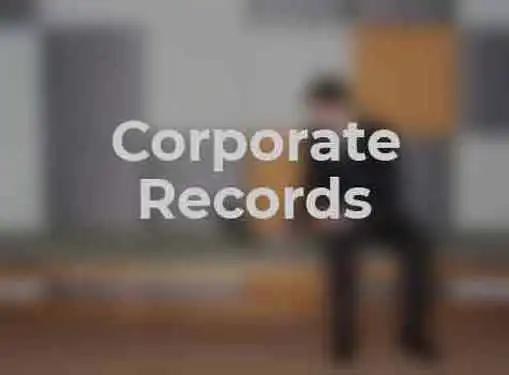 An incorporated business is more capable of attracting investors and strategic partners than a sole proprietorship or partnership, and incorporation can set the stage for higher valuation when it's time to exit the business.
While the benefits of incorporation loom large, many entrepreneurs don't realize that incorporation also necessitates the creation of a more sophisticated recordkeeping process. In addition to maintaining impeccable financial statements, you'll have to develop a system for generating and archiving corporate records.
Corporate records document the life of the corporation. In theory, an outsider should be able to look at your corporate records and discern the high points of your corporate existence. Requirements for corporate records vary by state, but you'll need to be prepared to document the following items and activities.
Articles of Incorporation. Articles of Incorporation are filed with the state. But they also form the foundation for your corporate records and need to be accessible for review by shareholders and other interested parties.
Corporate bylaws. Corporate bylaws document the corporation's standards and procedures. Since they govern corporate activity, you are required to include them in your company's official corporate record.
Resolutions. One of the disadvantages of incorporation is a lack of privacy. Subsequently, any resolutions that are passed on behalf of the corporation become part of the record.
Minutes. Like resolutions, the inclusion of board meeting minutes in the corporate record creates a layer of transparency for the corporation. Minutes can be detailed or high level – either way, they will ultimately find their way into your corporate records.
Annual reports. Annual reports summarize the company's activities for the previous fiscal year and are included in the corporate records for shareholder review. On a practical level, annual reports are helpful in documenting the company's life cycle and major achievements.
Shareholder list. Your corporation's shareholder list may be a matter of public record. You'll need to include it in the corporate records as an official document.
Year-end financials. Many corporations include year-end financials in their annual report. If not, you'll need to include them as a separate item in your corporate records.
Share this article
---
Additional Resources for Entrepreneurs