Small Business Marketing Advice
Criteria For Choosing a Creative Agency
Written by Melissa Crowe for Gaebler Ventures
Selecting a creative agency is not a task to be taken lightly. In this article, we offer some useful criteria for choosing a creative agency.
The old adage says, "Image is everything," and when you're marketing a company there couldn't be a more true statement.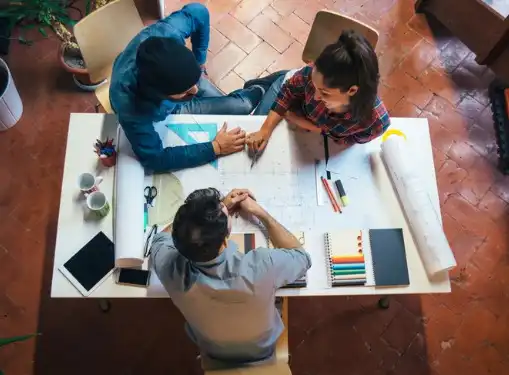 When considering launching a new brand, marketing campaign or re-branding, the first step to take is choosing an agency to work with.
All creative agencies have the capability to create a logo, write promotional materials and set campaigns in motions -- the question is which one will work best for your company?
Selecting a creative agency can be both a fun and intimidating experience, so doing research and weighing all of the options is key. The following checklist outlines the steps that will assist your company in selecting an agency that fits best.
Location, Location, Location - When working with an agency, there will be numerous face-to-face meetings at their offices, and traveling to these meetings can become costly if an agency is not located within your area. Long commutes to and from these meetings also takes time away from running a business. Try to find an agency located within 30 minutes of you.
Good things come in small packages - Big agencies will sell themselves with countless success stories and a large employee pool to draw from. However, you need to be the center of attention with your agency. Small agencies take the time to get to know their clients and make even the smallest clients feel important. A larger agency can compare this kind of service with a small team that is dedicated to your company.
What can you do for me? - Ask potential agencies to see their portfolio. Have they run a successful campaign similar to yours in the past? How successful have they been? Take these two questions seriously; both are important during the selection process. You will also want to look at their successful case studies to see the results of their campaigns. If an agency has great results, but has never done what you are looking for; it may be good to shy away from them. Avoid being a company's guinea pig into a new venture.
The cost factor - How much money is your company looking to spend? Many of the services that agencies perform vary in price. Consider that an agency will bill hours as long as they are on your campaign. So try to have a clear-cut plan when you are heading into selecting an agency. Study the rates and compare them to other companies that are on your radar to get the best bang for your buck. Consider the pay for performance option and also ask to be notified if the they go over budget at anytime.
Ask for referrals - Ask an agency who've they worked with in your industry. It is important to know what kind of similar problems that they have solved, and you can also contact their former clients to see what they thought of their experience. Asking for referrals will actually show a company that you are serious in working with them. They will also be more than happy to give contact information of past clients with similar needs.
Plays well with others - Make sure that your voice is heard. You don't want to get stuck with an agency that will create a campaign that they see as best, regardless of what you think. Lines of communication should always be open, allowing both sides to work together to create a successful project. If your company has a creative team, it is also a good idea to see if the agency is comfortable receiving feedback and input from members of the creative team. Defining the team, roles and responsibilities upfront on both sides is helpful.
Diversified success - The more avenues that an agency is proficient in, the better. A successful company will have a firm grasp on multiple levels including branding, web sites, direct mail and online advertising. They will also be able to give you more bang for your buck and won't require you to tap other resources to cover what they are capable of.
People matters - When talking to the team that will be handling your account, make sure that they have your best interest in mind. For instance if you have a set budget, will they help cut costs in some areas to stay under budget? Will they be willing to work aggressively to meet or finish ahead of deadline? You should also ask to see the resumes and credentials of the team members and know where they are coming from. They are working for you so you should know about them.
No matter your budget, this checklist will serve as a useful tool as you select an agency to help your organization launch a successful marketing campaign.
Melissa Crowe is the vice president of marketing services at VistaPrint, an online supplier of graphic design and printed products to small businesses and consumers.
Share this article
---
Additional Resources for Entrepreneurs