Home Business
Decorating a Home Business
Among the many challenges faced by home business owners, decorating a home business for visitors is a big one. When visitors come to your home business, what's their first impression? Here are some tips for presenting your home business in the most professional light possible.
Home-based businesses present a variety of interesting challenges for business owners.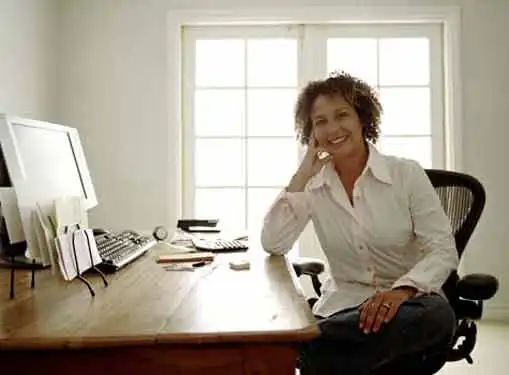 Sometimes just carving out a workspace can seem like a monumental task. But have you thought about how you will decorate your workspace? If not, you might find yourself fighting an uphill battle.
Unlike traditional businesses, most home-based businesses don't require style elements designed to appeal to customers and clientele. That means you only have to focus your decorating efforts on the tastes and preferences of one person - you. While aesthetics are great, the key is to incorporate elements that enhance your ability to work in a distraction-free atmosphere. Here's how to do it . . .
Office or Home?
From the outset, it's important to retain the look and feel of a home even though it is being used for home business purposes. At the end of the day nothing is more disconcerting than trying to kick back in a house that has been completely retrofitted into a manufacturing facility. Whenever possible, utilize furniture and desks that have been created for home use to maintain the "homey" feel of your workspace.
Minimize Clutter
Clutter is a killer for a home-based business. A house littered with boxes and piles of papers cannot serve as an effective workspace, let alone a relaxing and enjoyable atmosphere for family life. If clutter is getting out of hand, regain the upper hand by throwing away unneeded items and storing everything else in an appropriate place. In some cases, an indexed filing system is all that you need to reclaim your workspace and your home.
Location
There is no hard and fast rule about where you should locate your office in a home-based business. Over the years, home-based business owners have used spare bedrooms, finished basements, even garages as effective workspaces. The most important thing is to find a place that is quiet and out of the way. Once you've found that place, dedicate it exclusively to the business and establish boundaries with the other people who live in your house.
Ambiance
To maximize the effectiveness of your workspace, you will need to consider the ambiance of the room. Use color and lighting to your advantage, even it means buying new curtains or putting a fresh coat of paint on the walls. Depending on your budget, you might also consider replacing the carpet and hanging a little artwork. However, if cash is tight a few plants will go a long way toward brightening the place up a little bit and improving the air quality of your work area.
Economize
Think long and hard before you make a list of new furniture and equipment to buy for your home office. Buy what you need, but if you can redeploy furniture you already own for business purposes - do it. Your capital resources will be better spent on other areas of the business or (better yet) saved for the day you move the home business out of your home and into a dedicated location.
Share this article
---
Additional Resources for Entrepreneurs