Coming Up With Business Ideas
Dog Walking Business
Written by Rayzelle Forrest Young for Gaebler Ventures
Tips on how to start a dog walking business. Points out that this can be started right in your own neighborhood.
If you love pets and have been pondering starting your own business, a dog walking service just might be the answer for you.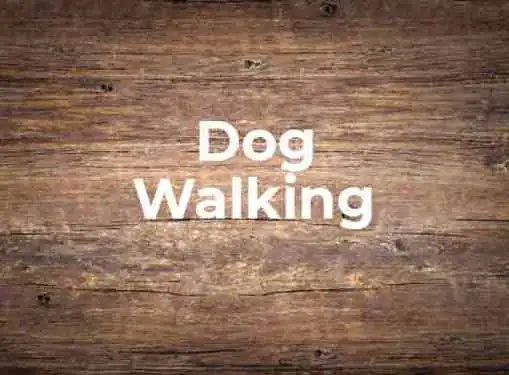 Nowadays, people are into their pets more than ever. There are plenty of pet owners who will pay others to walk their dogs because they either don't have the time or are physically not able to do it. This is where your services would come in as a dog walking business.
Get Experience
Before you jump into the dog walking business you need to get some experience. Practice walking your family and friends dogs. You could even offer to walk your neighbor's dogs for free in order to gain experience. This also gives you the opportunity to learn the area and which streets and paths are good for walking a dog.
Get Educated
Take some courses on dog training and how to deal with dogs or at the least read books and do online research on dog behaviors and dog handling. If your are educated on dealing with dogs, your clients will feel more comfortable leaving their pets in your care. Educating yourself will also give you added confidence in your dog handling abilities.
Get Licensed and Bonded
Get the proper licensing and bonding in order to run your dog walking company. You will need a license to become a certified pet sitter if you want your business to be legit. Browse the internet for companies that will do this for you or get help from local groups that offer this service.
Set Your Rates
Do some research in order to help set the rates for your company. Find out what other dog walking businesses in your area are charging. Use this as a guideline to set your prices. When just starting out you typically want to competitively price your services until you build a solid clientele base.
Get Equipment
Acquire leashes, pooper scoopers, harnesses and collars. Usually dog owners will supply these items but you need to have them on hand in case they break or there's an unexpected situation that requires the use of extra supplies.
Market Your Business
Market your business by putting business cards in pet grooming stores, pet hospitals and any other place that pet owners frequent. Let your neighbors know that you offer this service by putting out fliers on your street or in your building. More than likely you will find people right in your neighborhood that could benefit from your business.
Dog walking is a much needed service for many people. You can capitalize on this need and start a dog walking business that offers this service to those who aren't able to do it themselves or just don't have the time. If you educate and prepare yourself properly, you should have no problem with turning this business into a lucrative company.
Rayzelle is an entrepreneur and writer. Based on her experiences as an owner of her own dance studio, she will share her personal tips on being a successful entrepreneur.
Share this article
---
Additional Resources for Entrepreneurs