Due Diligence When Selling a Business
Due Diligence Checklist
Seller due diligence separates the "tire kickers" from buyers with the capacity to buy your company. Our seller's due diligence checklist is the perfect tool for making sure you've covered all the right bases.
Business buyers aren't the only ones who need to perform due diligence.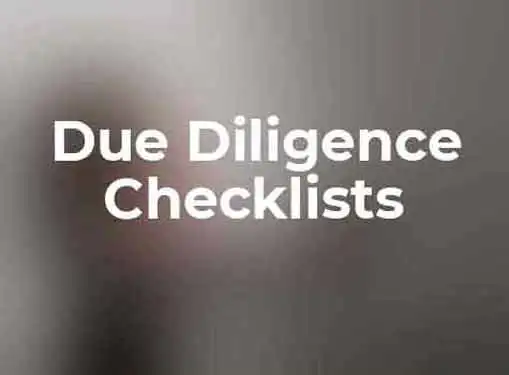 Sellers have a need and a responsibility to conduct their own due diligence process. But unlike the buyer's due diligence process, the seller's due diligence process focuses on the qualifications of the buyer to complete the purchase and operate the business in a way that meets the seller's expectations.
Unfortunately, seller due diligence doesn't always receive the attention it deserves. Sellers sometimes mistakenly believe that their broker has already performed due diligence on the buyer and seller due diligence tasks are quickly buried in the flurry of activities that surround the buyer's due diligence process.
The time to prepare for seller's due diligence is before you put your business on the market. The creation of a simple due diligence checklist can eliminate the confusion that arises in the midst of a sale and pave the way for a proper assessment of the buyer's capacity and motivations. Here some essential due diligence checklist items to get you started.
Background. Before you investment too much time in a prospective buyer, it's important to conduct due diligence about his background and interest in your business. Check for prior business experience, industry reputation, and the reasons why he wants to buy your company. All of these issues can have an impact on the rest of the sale process.
Financial information. Turnaround is fair play, so it's reasonable to request the buyer's financial information when he requests to see your company's financials. Without an adequate understanding of the buyer's financial capacity and credit history, you won't be able to evaluate his ability to see the deal through to its completion.
Legal research. With the help of your attorney and broker, perform a background check on the buyer's legal status. You're looking for things like judgments, pending litigation, and anything else that could jeopardize his ability to either complete the sale or successfully operate the business after closing.
Industry standing. Like it or not, your reputation may be tied to the company's reputation after ownership has changed hands, especially if the company will continue to operate under its current name. During due diligence, get in touch with industry contacts to evaluate the buyer's reputation and ethical character before you sign a Letter of Intent.
Concession capacity. Buyers often make concessions during negotiations. But those concessions have little value if the buyer isn't capable of delivering on his promises. Before you agree to a concession, conduct due diligence to assess the buyer's ability to execute his part of the bargain.
Share this article
---
Additional Resources for Entrepreneurs