Hiring Employees
Entrepreneur's Guide to Hiring
Written by Kathryn Lang for Gaebler Ventures
Entrepreneurs may want to do it all alone, but there may come a time when it is time to hire some help.
Most entrepreneurs launch businesses because they want to be self-employed.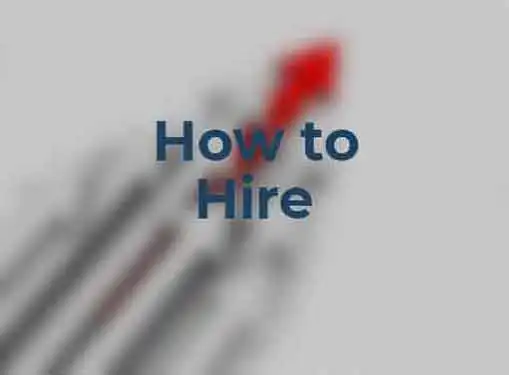 Everything that needs to be done will be accomplished by one individual at least until that one individual runs out of time, energy or resources to get everything completed. There may come a time in every entrepreneur's business life when it might be a good idea to hire in some extra help.
Clues to When it is Time to Hire
1. Keep up with how much money you earn per hour when you are actually working at your business. Also keep up with the number of hours needed to run errands, do filing and clean around your business. When the amount that you could be making doing business work rises to twice the amount it would cost to hire someone to do the basic things around the business then you should begin to look into hiring help.
2. Be aware of how much work comes in to your business each week and how many hours you spend completing that work. When the workload becomes more than you can accomplish in the number of hours you have scheduled for work then it may be time to consider hiring some help to reduce the workload.
3. The time may come when you need to be away from your business for a period of time. The amount of time can vary from a few hours to a few days. When you need to have the ability to be away from the business but have the business still running then you might need to look into hiring someone in a full-time or temporary position to help with these time gaps.
Once you determine that you need to hire some help, finding the right help can mean the difference between your entrepreneurial business taking off or collapsing. Understanding some simple tips can help you find the right person to meet your needs.
Job Description
Before you even think about sending out ads for help you should know what help you need. Write out a list of everything that you want done around your business. Turn that list into a complete job description and then turn the job description into an advertisement. Be sure you estimate the number of hours that will be necessary to complete all of the tasks so that you can advertise for full-time or part-time. Keep in mind that full-time employees often come with the additional expense of benefits.
Application
Create an application that will address all of your needs so that you can assess the skill level of each applicant. You may want to spend a little time searching on the internet for any signs of the applicant. The internet can reveal many things that the application will not reveal.
Interview
Take the time to interview each applicant. The skill level of the applicant is important, but you will also have to work with the individual so personality may be a factor as well. Remember that you are not looking for another you but simply someone that complete the job description in a manner that will benefit your business.
Choosing the right time to hire an employee will help you expand your business as an entrepreneur. Finding the right employee for the job can be just as important. Entrepreneurs often want to work for themselves, but there comes a time in all successful business when help needs to be hired.
Kathryn Lang is a professionial writer and motivational speaker. She enjoys writing about a wide variety of business topics including youth businesses and finance.
Share this article
---
Additional Resources for Entrepreneurs