Starting a Company
Ethnic Entrepreneurs
Written by Nidhi Ann Raj for Gaebler Ventures
When recent immigrants decide to set up their business, they may have to face a number of challenges. Despite that, millions of immigrant entrepreneurs have boosted the economy of their host countries by being able to run successful businesses.
Who are ethnic entrepreneurs?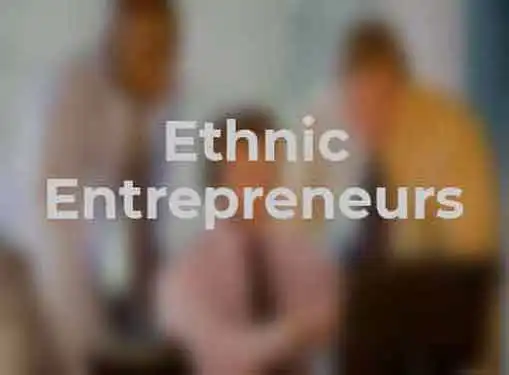 Sometimes, people who have migrated to a place and are part of an ethnic group different from the aboriginal inhabitants, decide to be self employed for a variety of reasons ranging from wanting to be one's own boss to not finding appropriate employment options in the host country.
Hence, they start their own business mainly with the capital they brought with them on migration or with the amount they saved during the initial stages of settling down or even with the help received from various communities these entrepreneurs maybe a part of. This skilled force uses its ethnic background as a competitive advantage to build successful businesses.
Normally, these entrepreneurs focus on clients from their own ethnic groups by offering them traditional products and services. This is also a sure way to gain easy access into the local market. For example, if you are an Indian and you come to know about a new Indian store being opened in your locality, chances are that you will go and check it out and refer it to other Indian friends. While some marketers may choose to stay within their ethnic niche, others may break out to expand their domain to clients outside their own ethnic group, thus taking their firm to the next stage of development.
Ethnic entrepreneurs are dependent on their group not only for customers, but also for labor and capital sources. Their cultural group is the first source of networking, especially for recent migrants. Their personal involvement plays an important role in bringing about social development within the group they belong to and the society at large.
However, things are not always rosy for immigrants who wish to set up their own business in a new country. Language is a major barrier especially in countries where English is not the prime medium of communication. Besides lingual constraints, there may be a number of legal issues they may have to face. For example: - they may not be issued certain documents because of their status or they may have to fulfill certain conditions which may not be applicable to the mainstream population.
Also, their products and services may not suit people outside their own ethnic groups, which may be a hindrance if their group represents only a minority of the population. On the other hand, they may also face stiff competition from other local businesses. To compete with them, these migrant entrepreneurs will need stronger market researches and more attractive products. They may also have to adapt to the changes in government policies of the host country.
Despite these disadvantages, surveys all around the world speak widely about the success of ethnic entrepreneurs, especially success stories of Asian and Hispanic groups running wealthy businesses in Western countries. They were all able to withstand all cultural and ethnic hurdles and achieve the dreams with which they left their respective countries of origin.
Nidhi Ann Raj is a gifted writer who is currently pursuing post-graduate studies at George Brown College in Toronto Canada, where she is specializing in Marketing and Finance.
Share this article
---
Additional Resources for Entrepreneurs