Family Businesses
Family Members in a Company
Written by Andrew Goldman for Gaebler Ventures
Often small businesses have family members at various levels of the organization. This can be a helpful situation or troublesome depending upon how you manage it.
Many small businesses have family members working within the company.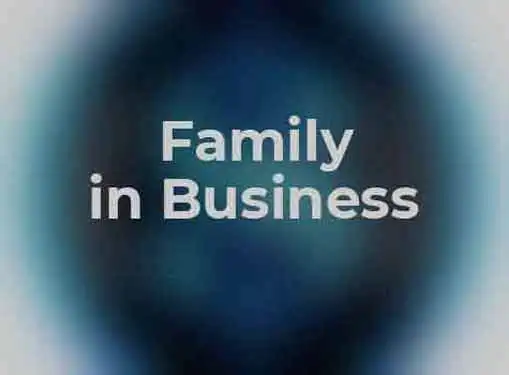 This is often at the senior level but can be seen at all levels of the company. Family members in the company can create a conflict of interest or it can create a cohesive workforce with tight bonds. If you have family members working within your company, make sure it's a positive and not a negative.
At the senior level, family members in a company typically aren't too much of a problem. The main issues here are that decisions are being made based on numerical data as opposed to emotional irrational decisions. If there is an issue outside of work between two family members, they need to keep it out of the office.
Also, family member should be comfortable challenging each other's decisions and not just agreeing because of relation. The flip side can also be true; a family member should not disagree simply because they are related to the other party.
At the lower level, family members in the workplace can become more of an issue. In my consulting experience, I have seen family members leverage their combined power to disturb the workforce. Two employees can know they have more power than one and use their relationship to force another employee out the door.
For example, I witnessed two brothers working in a service operation. One of the brothers did not get along with another employee. The two brothers teamed up to bother and complain about the other employee. The other employee was almost let go, because two people were complaining about one employee. Getting to the bottom of this issue revealed a lot of concern within the company.
Family members in the workplace create a conflict of interest if their loyalty is to their family before the company. This creates serious problems when family members defend one another or make decisions in the best interest of themselves versus the company as a whole. Fortunately, family members in the company are not necessarily a bad thing and can be turned into a positive.
Regardless of family relations in your workforce, you should take measures to build a team atmosphere within your company. Make sure respect for other employees is part of your company culture and reinforce this thinking.
Do not tolerate selfish behavior and make it clear to the employees that everyone is a part of the team. This can alleviate any family issues.
Where you station employees can also be helpful. In general, cross-training and multiple job positions is a great strategy. This can also help with your workforce. Family members will not work solely with each other, as they will be spread around to work with other employees. In addition, your workforce will be better equipped to meet fluctuations in demand.
Family members in the workforce can be extremely helpful or severely detrimental. Recognize the potential issue and take measures to alleviate the problem. Family members already have a tight bond that we would like to see in our company. Build off of that loyalty and make sure your working environment is a team atmosphere where everyone feels like a family member.
Andrew Goldman is an Isenberg School of Management MBA student at the University of Massachusetts Amherst. He has extensive experience working with small businesses on a consulting basis.
Share this article
---
Additional Resources for Entrepreneurs