Starting Your Business
Finding the Right Time to Launch Your Business
Written by Brenda Stokes for Gaebler Ventures
You want to launch your amazing business idea, but you are not sure about the timing. Perhaps it is economic, personal, or social issues that are holding you back. But if now isn't the right time, when is?
You have had this really great business idea for quite some time and you are very excited about it.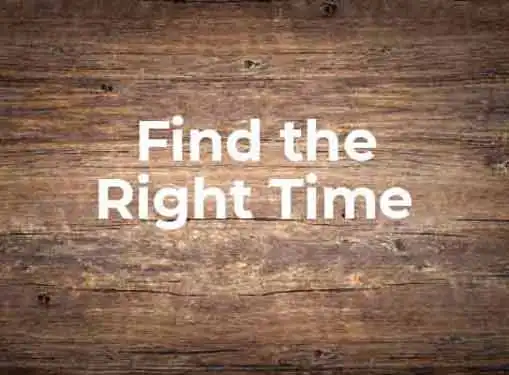 You know that it has the potential to be profitable, but there is one thing standing in your way - You are scared to death.
It is true that the marketplace is full of risk and that those who launch a business hesitate because of this risk. The hesitation is even more pronounced when the economy is experiencing a downturn. Then again, some frequently find excuses as to why they shouldn't start a business.
Why start a business?
There are approximately 27 million businesses in the United States that have less than 500 employees. More than 20 million of those businesses have no employees. It is these small businesses that really fuel the American economy and are the livelihood of many.
If one of the reasons why you haven't started a business is because you are hesitant about using your savings or taking out a loan to start your business, you can turn to the Small Business Administration (SBA). The SBA provides funds to those who have a solid plan for starting a business now. You may even find that they have solutions for the aspiring entrepreneur who is having difficulty making a decision to start a business today.
What you may find is that having an alternate funding option such as the SBA can help you better enjoy the exhilaration that opening a business brings.
Starting a business during an economic downturn
Economic downturns occur once or twice every decade and it is during this time that the American consumer hunkers down and those wishing to launch a business hesitate.
The truth is that you don't have to hesitate when starting a business. You don't have to put your plans on hold. You can go ahead and take advantage of the downturn by placing yourself in a good position for when the always inevitable recovery takes place.
Here are some advantages to starting a business during a downturn and ways you can make your business a success:
1. You can find a location cheaper. In response to tough economic times, landlords may rent spaces cheaper as opposed to having no tenants at all.
2. Those businesses that are going out of business sell their furniture, electronics, and other items for cheap.
3. You can get employees for cheaper.
4. Service providers will provide services for cheaper.
5. Competition is whittled down. Some established businesses do go out of business, which means you can obtain their business.
All-in-all, starting a business during a downturn is not at all a bad idea. Know that the economy has to achieve an upswing somehow and part of that upswing comes from individuals such as you opening a business.
When to launch your business
Starting a business now is not a bad idea at all. Whether the economy is challenged at the moment or it is not, you simply have to have a strategy. There are ways to work around a bad economy and you know that when the recovery takes place you will be in an excellent position both financially and business-wise.
Brenda is a graduate of California State University and a professional writer covering a variety of business topics. To learn more about Brenda, check out her website at The Digital Inkwell.
Share this article
---
Additional Resources for Entrepreneurs