Loyalty Customers
Focus on People, Not Profit
Written by Chukwuma Asala for Gaebler Ventures
It can be difficult to turn a regular customer into a loyal customer. Sometimes you just need to know what you can do to win their heart over. Read on for some tricks gain your customer's trust.
In the world of business, people are by far your most important asset.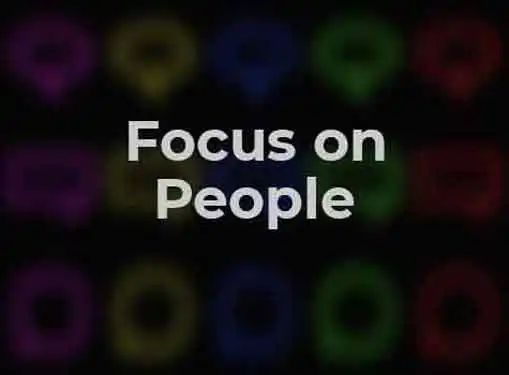 It doesn't matter whether we're referring to people in your company or the customers you service. Nothing in the economy runs without people. Even if you happen to be in the pet food industry, you still need people. Dogs and cats can't do their own shopping.
People are the biggest reason why the business world can consistently engage in commerce because people are always in need of things. And as you know in the world of sales only when someone has a need that they want met do you have an opportunity for a sale.
A big challenge however in business is how to generate repeat sales which are really a by-product of loyal customers. If you take a closer look you will see that the real question is: how do you build trust? This is important because trust and loyalty go hand in hand. Most people are loyal to people they can trust and your customers are no different. The secret is to remember a couple of things about your customer base:
They all have needs
Every human being we come in contact with has a certain need. The big question is are you trying to help your customers fill that need or are you more focused on how much money you can make if you sell them a different product instead. Most businesses miss out on loyal customers because they do not identify the needs their customers have, and even if they do they are quick to try and manipulate the person into buying something way more expensive than they expressed a need for. This is a fast way to preclude and chances of trust being built.
Desire to feel connected
Most people buy because they need something. Many more people buy simply because they like the person selling the product and trust that they are getting high value for what they are paying for. Connecting with your customers is more important than memorizing all the incredible features that your products have. A customer who feels like you connected with them on a much more personal level will always feel inclined to buy whatever you're selling even if they DO NOT need it. Don't underestimate the power of a connection. Did I mention that loyal customers also bring you referrals too?
Sell on their terms
As long as you can help a customer arrive at a decision to purchase and they feel like it was their decision and no one else's, they will always come back to you because every purchase for them is an empowering experience. Most car salesmen are notorious for their manipulative methods of selling expensive cars to customers who walk in looking for a bargain.
You rarely find anyone who has recently purchased a car talking about the salesmen that helped them because a lot of them usually don't think they got a good deal. The challenge here is you don't make a lot of profit from the first sale that is made based on the customer's decision. You do however make a lot from the second sale, because at this point they trust you and are more open to taking your advice and input.
Chukwuma Asala is an international student from Nigeria who is studying to earn an MBA from the State University of New York in Albany. He has analyzed more than 20 industry case studies throughout his education thus far, and hopes to bring some of his business knowledge to Gaebler.com.
Share this article
---
Additional Resources for Entrepreneurs