We wanted to get a Yahoo! Local listing for one of our companies as part of our research into Internet Yellow Pages costs.
(article continues below)
The first thing we did was to find the Yahoo! Local pages. We searched Google (sorry Yahoo!) for "search Yahoo local" and that quickly got us to this page:
which looks like this: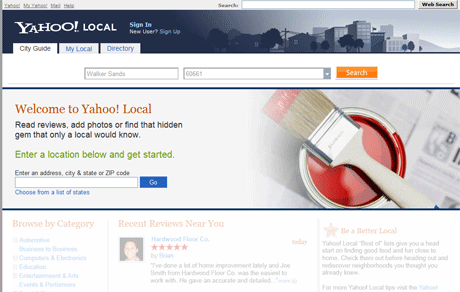 At this point, the question is: Are we already listed?
Yahoo! Local gets its source data from YellowPages.com, InfoUSA, Wcities and Discoverourtown.com. If you are listed with any of those four data sources, there's a good chance you are already listed in Yahoo! Local's local search results.
Since we are eager to see if our PR firm is listed in Yahoo local, and get it listed if it isn't, we search for "PR firm" in zipcode 60661.
Here's what show up: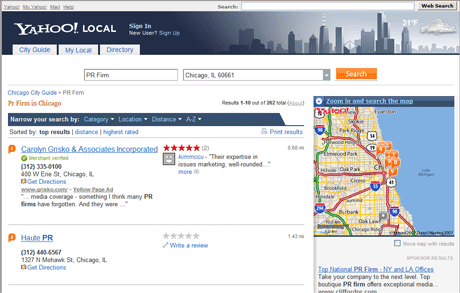 What we learn from this simple exploratory exercise is the following:
There are 262 listings for Chicago PR firm and Yahoo only shows the first 10.
If Walker Sands is in the list, it's definitely not in the Top 10.
The words in your company name seem to matter, companies that have "PR" in their title seem to do well in these listings, although the top entry doesn't have "PR" in its company name. A search on "Public Relations" verifies the theory; companies that have "Public Relations" in their company names seem to do well.
The top result says "Merchant Verified" – hmmm, maybe that's important.
It doesn't seem like our company is in Yahoo Local at all for some reason. We do a search for Walker Sands in 60661 and it's not there. For some reason, Yahoo Local doesn't know we exist.
At the bottom of every Yahoo! Local search result set, there's some text that says:
Know something we're missing? Add it now
So we click on that and add our business. See screen shot below:
Yahoo tells us Thanks after we submit, and it's time to call it a day on this endeavor because we need to get some other stuff done.
We'll check back and update the article later to let you know if we got into Yahoo! Local listings and what else we learn.
Mind you, this is one of those classic things where there are people who are expert at getting to be top-ranked in Yahoo! Local listings, but we need to do the homework and find out who they are and what their listing secrets are. Sometimes we write our articles after we know everything, and sometimes we start writing and learn as we go. This is one of our "learn as we go" articles.
We'll get back to this article soon for you. Sorry to have to jump right now.
Here's a couple of useful links to check out.