Freelance Writing Business
Ghostblogging
Blogs have become powerful PR tools for many companies. But it can be difficult for CEOs and other executives to keep up with the rigorous demands of a blog. That's why there is ghostblogging -- a great revenue opportunity for web-savvy freelance writers.
Blogs (or weblogs) have become a ubiquitous feature in corporate PR strategies.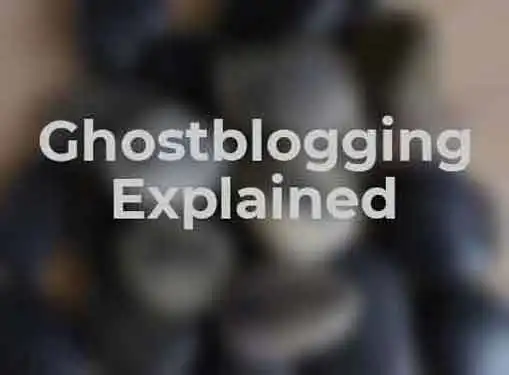 Corporate image-shapers are increasingly turning to blogs and other online tools to create a steady stream of fresh, online content that has been optimized for maximum readership.
But blogs also have a dark side. A blog that began as a great idea can quickly turn into an annoyance that demands constant feeding. Effective blogs require frequent updates, i.e. meaningful content posted two or three times a week. If a blog becomes stale it loses its PR value and can even generate negative impressions about the company.
Since PR professionals and business leaders are sensitive to the potential for a good blog to go bad, they hire freelance writers to maintain their blogs for them. Businesses employ freelance copywriters to produce a wide range of marketing and PR related materials–and blogs are just one more way they can use professional writers to present their messages to the world.
As a freelance writer, ghostblogging offers a great opportunity for interesting work and a steady revenue stream. If this sounds like something you might be interested in, here are a few things you should know about ghostblogging:
Consistency is king. The reason corporate interests hire a ghostblogger is because they lack either the time or the desire to keep up with relentless demands of a blog. That means that the burden of producing consistent blog posts falls on your shoulders. If you find it difficult to maintain a regular writing schedule, ghostblogging (and blogging in general) is not for you.
Client-driven content. While the writing of consistent blog posts is a ghostblogger's responsibility, the client should be involved in generating blog topics. The idea is for the ghost blogger to produce posts that reflect the client's corporate personality and messaging priorities. CEOs and other executives send the ghostblogger short bits of information they find interesting, which the blogger then turns into fully fleshed-out blog content.
SEO awareness. The best ghostbloggers are acutely aware of the SEO value of blog content. If it's successful, the client's blog will generate traffic and attention through search engines like Google. But that won't happen unless the ghostblogger understands how to create online content that connects corporate branding with strategic blog topics.
Ghostblogging rates. Ghostblogging is normally billed by the post. The rate per post is agreed upon in advance, and is based on the length and number of posts that are required each week. Although rates vary (according to the amount of work that's involved) it's not unusual for a talented ghostblogger to earn $50 or more per post.
Share this article
---
Additional Resources for Entrepreneurs