Business Lessons from the Jungle
Hippo or Fish?
In business and in life, you can be either a hippo or a fish. To be a successful business owner, it's imperative that you avoid being a fish and transition to hippo status as quickly as possible.
It's not a question you'll get on any business school exam.
Would you rather be a hippo or a fish?
I was watching some nature show on cable and they were talking about hippos.
They show the hippos swimming around. With these amazing underwater cameras the film crews use, the footage is beautiful.
Suddenly, one hippo takes a dump...er, you know, he poops. He goes potty. You get the idea.
Immediately, a ton of fish surge into action. They start eating the hippo excrement.
In fact, they've been following the hippos around for some time waiting for this exact opportunity.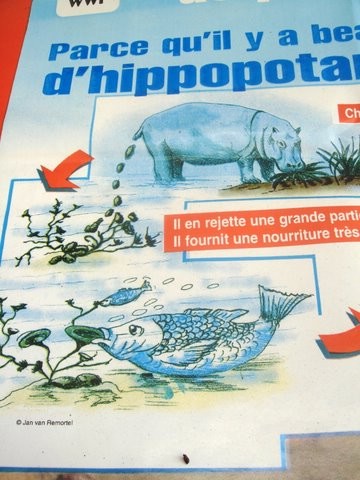 Apparently, hippos create a ton of excrement, and that hippo poop then becomes food for many fish.
On the one hand, it's a remarkable lesson in recycling. Even the most unwanted things can be reused and recycled.
But, as an entrepreneur, I took away a different lesson.
In business and in life, it's much better to be a hippo than a fish.
You see, in business, there is an elaborate pecking order. Those at the top are the hippos. Those at the bottom are the fish.
Fish entrepreneurs are highly dependent on hippo entrepreneurs.
Fish people are highly dependent on hippo people.
If you are a fish person or fish business owner, you really don't control your own destiny. You wait for the hippo people to poop and then you eat what they've given you.
Whatever the hippos decide to do determines what you will be doing.
Is this a good way to live?
Absolutely not.
Let's say you are an aspiring tech entrepreneur with a ton of talent. If somebody gave you $1 million dollars, you know you could turn it into $10 million within a couple of years.
But nobody is giving you the money. Nobody with a ton of money knows who you are or even cares that you exist.
That's because you are a fish right now. The venture capitalists are hippos. You are at their mercy.
For all you fish out there, your goal right now has to be to become a hippo. In truth, it doesn't have to be black and white. You simply want to become more hippoesque each day as time passes. Eventually, you will wake up one morning and realize you've made it. "Finally, I am a hippo," you'll think to yourself.
So how does one become a hippo? What are some ways to transition from fish status to hippo status?
That's something we'll cover in future articles on the site. However, it starts with a firm resolution to yourself that you want to be a hippo and not a fish.
That's something you can decide today...in fact, you can do it right now.
So what's it going to be for you? Will you be a hippo or will you remain a fish?
Share this article
---
Additional Resources for Entrepreneurs