Hiring Advice
How to Hire Good Writers
Hiring good writers is essential, but it's not easy. We offer tips on how to hire good writers and avoid getting stuck with a grammar-challenged employee.
If you've ever hired a horrible writer, you know that it can be an exhausting experience.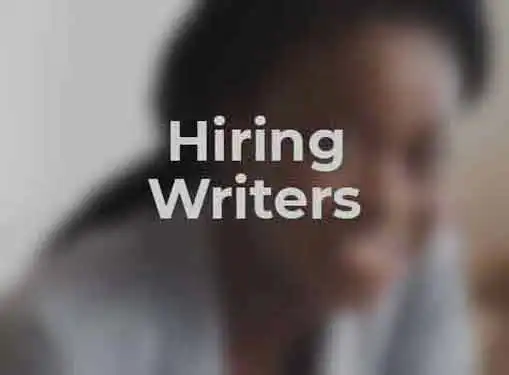 One woman we hired as an administrative assistant for one of our businesses told us during her interview that she was busy writing a book. We took that as an indication that she could write, and, for that reason and others, we gave her an offer.
Ugh! She was the worst writer we have ever hired. It was a nightmare rewriting every single thing she did.
Had this been the first time we had hired an incompetent writer, it might have been OK.
But it brought back painful memories of a sales rep we had hired earlier. He talked a big game and we gave him the job, only to find out that his writing skills were virtually non-existent. As it turned out, so were his selling skills, but that's another story.
Imagine hiring somebody whom you expect to help you write proposals, and then finding out that you will need to line edit every single sentence they write.
We are talking basic stuff - not knowing the difference between "it's" and "its" or the difference between "then" and "than."
These two employees excelled in creating fragment sentences, subject-verb agreement errors, and run-on sentences. The writing was incoherent, off message, and poorly organized. It was awful.
So, based on our painful lessons learned, here are some tips that we now use to screen prospective employees for bad writing skills.
We strongly recommend you do this for all employees, because inevitably every employee may have a customer-facing task that requires writing.
In fact, there is a growing body of research that suggests that writing is an intellectual activity, not just a bundle of skills. In other words, good writing skills signal an organized mind that is capable of arranging information and argument in a systematic fashion and helping other people understand things.
A good writer also will have the empathy that is necessary for good communication. To write well, you must listen well and understand other points of view.
OK, enough prelude. Here are our useful tips for hiring employees who can write well.
1. Don't let your mediocre writers do the hiring.
If strong writing skills are important to you, make sure that those who are doing the hiring for your organization are strong writers. Mediocre or bad writers won't have any problems with hiring other mediocre or bad writers. In fact, they may not even recognize bad writing when they see it. So, to hire good writers on a consistent basis, make sure that your best writers are involved in the hiring process.
2. Don't forgive small typos.
If you see a typo in a prospective hire's cover letter, immediately toss it in the trash and move on to other candidates. Interestingly, a recent survey found that 47% of senior executives at the nation's 1,000 largest companies decide not to consider a job candidate for a position if they find a typo in a resume. That's how those companies got to be large and successful! They didn't hire candidates who were either too lazy or too dumb to avoid the typo. To err is human, but to forgive a typo is simply foolish recruiting.
3. Give a writing assignment.
Be wary of writing samples. When a candidate gives you a writing sample, you have no proof that they actually wrote the article on their own. It could have been a team effort or there could have been a lot of editing done by others. To avoid getting hoodwinked by an illegitimate writing sample, we recommend that you give candidates a writing assignment. For example, a PR firm might ask a candidate to write a press release for a hypothetical client's introduction of a new product. In addition to finding out if a candidate can write, this assignment also tests how interested they are in working for you. If they walk away without doing their homework, be glad -- you just avoided hiring a bad hire.
4. Give a grammar test.
Cut to the chase and ask prospective employees a series of grammar questions designed to find out if they are grammar-challenged. A grammar test is the best way to find employees who love and value good writing skills. It will help you weed out the duds as well.
5. Test for speed.
We've hired good writers who were slow writers, and had many regrets after doing so. In your hiring process, look for good writers who write quickly. If you give a writing assignment to a prospective employee, ask that it be done in a certain period of time.
6. Ask at least five interview questions about writing skills.
By asking several interview questions about writing skills, you make it clear to the candidate that good writing is important to your organization. Poor writers will see the writing on the wall - sorry for the bad pun - and will drop out of the interviewing process. Sample questions include: How are your writing skills? Tell me about something you've written recently. If you had to give yourself a grade as a writer, what grade would you give yourself? What would people you have worked with in the past say about your writing skills? What were your SAT verbal scores?
7. Hire on a probationary basis.
Be slow to hire and quick to fire. That's good advice for running any business. If you rush to hire a candidate, you may get some nasty surprises - as we found out with our writing-disaster hires. Take your time. Evaluate candidates intensely, using our tips above. To further cover the downside risks of mistakenly hiring a poor writer, tell all new employees that their job offer is probationary in nature, with permanent job offers being finalized after a three-month trial. Firing somebody is never easy - even if they are the worst writer you've ever hired (we know this all too well!). By letting them know that termination after three months is possible, you make it that much easier to cut the cord.
Share this article
---
Additional Resources for Entrepreneurs