Hiring Sales People
How to Hire Good Sales People
Want to hire the best sales reps possible? If you don't hire good sales people, it could be "game over" for your business. Follow our advice and you'll build a sales staff that can take your business to a new level.
Let's face it. You may have the best product in the world, but your sales team still has the power to make or break you financially.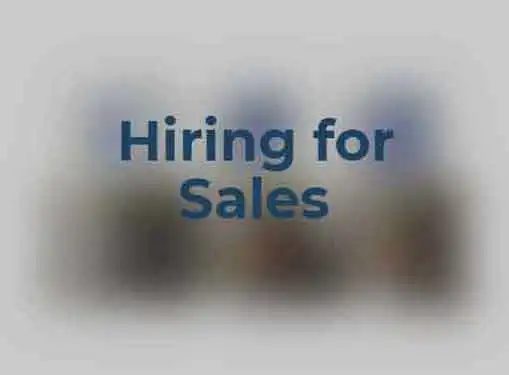 Hiring effective salespeople can be tricky. You will probably interview some very charismatic people who have a lot of practice marketing themselves, but that does not necessarily mean that they can successfully sell your product.
Here are five tips to make sure you get what you expect when you hire your sales team.
(1) Give all your candidates the same interview.
You should develop a standard set of questions that you ask all candidates. These questions should be tailored to meet the criteria that you have pre-established in a successful candidate. Using the same questions in each interview gives you greater control of the situation by preventing a savvy salesperson from hijacking the interview.
Developing your questions ahead of time ensures that every person gets the same interview and is judged based on the same criteria. You will be less likely to hire someone just because you "click" with him/her and more likely to hire based on your actual staffing needs.
(2) Make them think on their toes.
A good salesperson should be able to handle the unanticipated and to meet challenges with confidence. So, try to stay steer clear of the anticipated questions like "What are your greatest strengths/weaknesses?" Most people have a canned answer already prepared for these questions.
Instead, try asking them how they might handle a sales situation that is specific to your industry. This maneuver will help to determine if they really understand your sales needs and are able to address them effectively.
(3) Be firm.
We all know that a good salesperson can be charming and will easily engage you in conversation. Don't allow yourself to get sidetracked. Be straightforward and don't be afraid to ask the hard questions like, "Have you always been able to meet or exceed your sales quota? If not, why?" You might also want to ask emphasize that you will follow up on their references and will be verifying their sales statistics. For instance you might say, "When I call your references, what will he/she tell me about your past performance?" This emphasis on reference checks will help to deter sales record inflation or exaggeration .
(4) Check their homework.
Any serious candidate should research your company before the interview. Don't make the mistake of telling the candidate all about your company and then listen to them regurgitate what you just said. Find out their level of interest by asking them why they want to be a part of your sales team. Note: The candidate's answer should show more depth than the underlying need for a paycheck!
(5) Get a second opinion.
If you have a trusted salesperson on your team, you mightconsider having him/her sit in on the interview to help you determine if the candidate truly has what it takes to mesh with the existing sales force. Part of any successful sales team is its ability to work toward a common goal...together.
Share this article
---
Additional Resources for Entrepreneurs