Negotiations
Hiring a Negotiator
Sometimes it makes more sense to hire a negotiator than it does to handle your own negotiation. But what should you look for in a hired gun? And how do you manage him after he's on your payroll?
In general, business leaders should be comfortable handling their own negotiations.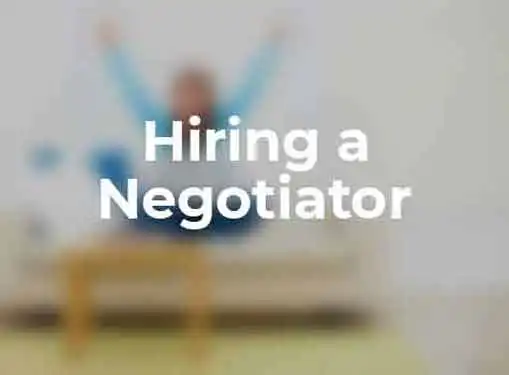 Countless types of negotiations take place during the course of a normal business day. If you aren't willing to develop your personal negotiating skills, you will have a hard time surviving in today's fast-paced business environment.
Sometimes it makes sense to bring in a professional negotiator to handle a complex negotiation or one in which the stakes are unusually high. Although you will still be intimately involved in the negotiation process, a professional negotiator can offer advice, strategy, and direct negotiating services.
It's usually easier to hire a negotiating pro than it is to manage him. Remember, you're up against a seasoned negotiation veteran who knows all the tricks and tactics of the trade. If you're not a little intimidated, you should be because if you're not careful a professional negotiator can run circles around your team and cast a negative shadow over the entire negotiation process.
Team coordination. Professional negotiators should demonstrate a willingness to work collaboratively with company leadership. The best third-party negotiators understand they are being invited to join a team and not being hired to perform as a lone ranger or gladiator.
Communication. Communication is essential when you use a professional negotiator. Depending on the scenario, the negotiator may not be able to provide blow-by-blow updates about the process. However, he should recognize the limits of his authority and express a desire to keep you in the loop as much as possible.
Strategy. Look for negotiators who emphasize the value of a negotiation strategy. Negotiators who minimize the importance of a negotiation strategy are usually mavericks that are overconfident in their negotiation skills and are willing to leave important details to chance.
Expertise. There are two kinds of expertise to look for in a professional negotiator. Obviously, the consultant should be highly skilled in the art of negotiation with a proven track record of wins for his clients. But he should also have expertise in your industry and area of negotiation. For example, if you're negotiating the details of a technology contract, you'll need a negotiator with technical expertise and business negotiation experience.
Style & personality. The negotiator will represent you and your company during negotiations. If the negotiator's style or personality traits run counter to your company culture or brand profile, he could cause significant damage to your reputation, even if he achieves an otherwise successful negotiation.
Share this article
---
Additional Resources for Entrepreneurs